If this is your first time building your own set of stairs I imagine you're pretty overwhelmed right now and that's okay because by the end of this write-up you're going to be able to figure the math, layout, cut your own stringers and then also be able to understand How To Build Free Standing Wooden Steps and also the overall installation process step by step.  
Things You Need To Know
To build a DIY wooden step you're going to need to know some basic terminology. And they are-
The first term is 'stringer'. Stringers are normally made up of dimensional lumber and they make up the main structure of the staircase. A typical stairway will have tree will have three two four stringers depending on the height of your steps
The second term is 'stairwell heder'. The stairwell header is important because it's the structural member that supports the floor above and it's also where the stringers are attached. 
The next term is 'tread'. Treads are the finished part of the steps that you actually step on. 
And the last basic term is 'riser'. Risers are the finished material that runs vertically up the rise of the stairs if we dig a little bit deeper. 
If we dig a little bit deeper there are four other important terms that you need to know and they are-
First is the total run. This is the stair's total horizontal length 
Next is the total rise. Total rise is the vertical distance from one finished floor to another. Sometimes that finished floor can be a concrete base or for an outside project like a set of deck stairs to better understand unit run
The unit run is the horizontal distance from the face of one rise to the next adjacent one
The unit rise is the vertical distance from the top of one tread to the top of another
Tools To Make Your Wooden Steps
Measuring tape
A chop saw 
Rollers
2×4 or 2×8 Wood plates 
Goggles
Galvanized nails 
Nail gun
Build-up Guideline : How To Build Free Standing Wooden Steps 
Making DIY wooden steps is very easy to work which you'll get to learn below. Just follow these simple steps that you can use on your tine house or on a deck anything that requires you to get from point A to point B.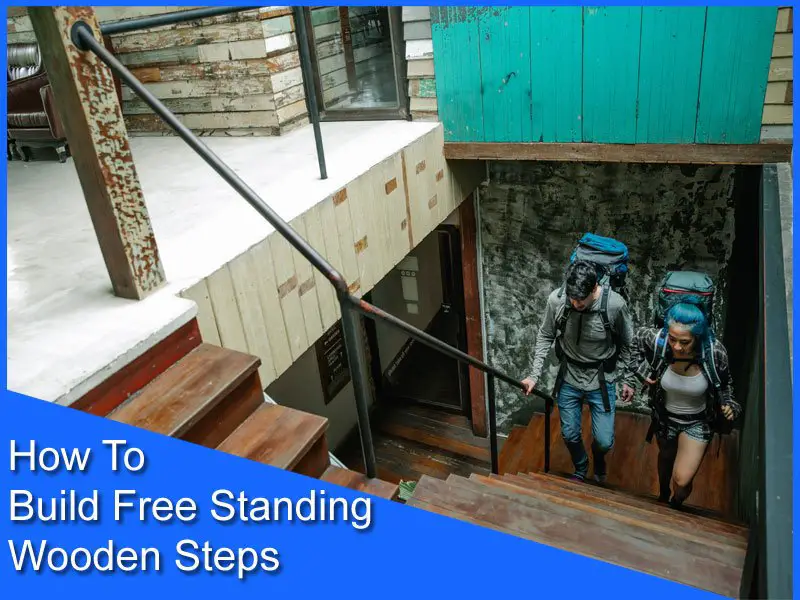 Step 1 
The first thing you're going to want to do is you're going to mount and measure from where the steps are starting to where they're going to finish. Use a measuring tape to measure the height. Now set up your chop saw with some rollers and set a 16-foot log and 2×8 material on the chop saw. Make sure the board is well supported and for this use roller stands it'll help glide the material into place. Make sure you're wearing your safety glasses to protect your eyes before cutting. 
Step 2
Now cut 6 pieces of 24-inch boards for footing. Make sure all the pieces are equally cut. These pieces are going to be used to make the end boxes that are going to comprise the overall steps. There will be 3 boxes of 30-inch, 20-inch, and 10-inch. As the boxes will be sitting on top of each other you have to minus 1.5-inch from each side and that'll make a total of 3-inches. So the box size will be 27-inch, 17-inch, and 7-inch. Now it's time to cut the lengths. 
Step 3
Use a nail gun and galvanized nails to attach the pre-cut pieces together. First, nail the pieces to make the box. Now cut two pieces of wood-board measuring the total height which will be attached inside the boxes and nail them to give them a stair shape. Now it's time to put your stepson. 
Step 4
For the very first step from the top, you can put a little overhang on which will allow a little better platform than the steps to have some extra room for footing. Measure your preferred step size and cut. Now nail down the steps into the stair footings and if you have any extra room left you can again measure that gap and cut some thin boards and attach them with nails in that step gaps you had. You have to remember that these free-standing steps will be a bit heavy and difficult to move around. That's the whole point of making these solid steps so it holds the ground nice and strong. 
You might also like
Final Verdict
You can also build these wooden steps in other ways you prefer. All you have to do is just follow this How to Build Free Standing Wooden Steps guide to help you through with this DIY project. You won't even need any professional's help and that's how easy it is.