Turning off your home's main gas supply is a skill that you'll need to know if you plan on doing a major renovation project or replacing a gas appliance. How To Tee Off An Existing Propane Line? It may also help you minimize damages during a gas leak or any emergencies. 
How To Tee Off An Existing Propane Line
In some areas, you don't even need to have a license to do some gas-related works on your property. Sao in that case if you know the basics of teeing off a propane line you can do it with ease. 
But always make sure what your state laws are and if you have the tools and the knowledge of how to tee off an existing propane line. If you want to know How To Tee Off An Existing Propane Line with full details of this kind of work then keep on reading the steps you need to follow.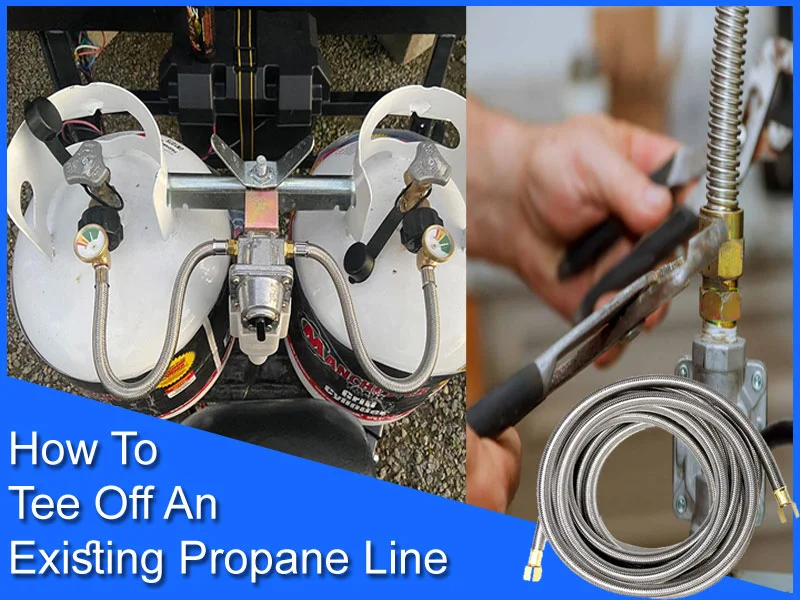 Turning Off The Main Gas Supply
Teeing off an existing gas line requires finding and shutting down the main gas line before you even start doing anything with the gas lines. This mainline can be located on the sides or front of your house or in your home's breezeway. 
The easiest way to locate the shut-off valve is to find your gas meter.  After you've located your meter you'll need to locate the gas shutoff valve. You should see the gas line and the gas shutoff valve is typically located about six to eight inches off the ground on the line. 
The main valve is controlled by a lever which is also known as Tang. it is a rectangular control switch that runs parallel with the rest of the piping when on. With a crescent type wrench turn the tank perpendicular to the gas line to shut it off. 
After turning off the gas supply wait five to ten minutes to allow the remaining gas and the lines to clear out and disperse. Many gas appliances use electricity for some specific functions as well. So even one stray spark could lead to danger. 
Cutting Into To The Gas Line
Cutting gas lines can be a tricky job to do if you don't have proper knowledge of which tool sot use and when and how to cut. Cause after you which of the gas valve you have to let the existing gas evaporate before you cut. A single sparkle can light a fire into that existing gas into your pipeline. 
So it is always a good idea not to use an electric saw to cut the pipes lines. Use a cutting wrench instead to cut short the pipeline or make some room to fit the tee. Make sure to wear gloves and goggles while cutting to avoid any accidents. 
To make a cut you need to measure all the pipe sizes like where you want to cut, where you'll make a joint, how long will be the tee fitting, etc. so when you are done measure mark the places of cutting. Then place your wrench in the marked area and make 360 degree turns until the pipe cuts off. 
Teeing Off The Gas Line
Tee fittings are used to make new connections for appliances that need gas connecting like an oven or a stove. There are different sizes available on the market for metal tee fightings that can be mounted for different purposes. 
So when you'd put a tee fitting in the gas line pipe it would reduce and go to the first device and the later pipe sizes can get smaller. So then you can reduce that to another downsize smaller or you can use a bigger tee fitting to accommodate more room for later gas connections. 
So when you are done cutting your gas pipe according to the size you needed it's time to install the new tee fitting. Make sure your new pipe fittings and tees are all the same width or gas might leak from the loose joints.
To join the pipe fittings pipe joint compound is a necessity. Its job is to lubricate the pipe joints so when you pipe wrench you'll be able to get it tighter and will seal the tapered pipe threads. So apply a nice and even layer of pipe joint compound on every pipe joint and all the sides of the tee. 
When you are done applying the compound it's time to join all the fittings according to your need and the number of your appliances. You can use several tee joints if you need and make a tee tree which will allow more room for more gas appliances. The extra threads can be caped off if you don't need them instantly. 
To get the pipe fittings tighter you need two sharpen the teeth of your pipe wrenches. One to hold the actual pipe and another to tighten the fittings. It almost acts as a ratchet as you move it back and forth. Use can use a gas valve if you didn't have one to make sure you can turn the grass off to the space heater when it's not in use.
You might also like
Final Verdict
If you do not have proper knowledge about gas lines all these tips can be a bit messy and confusing. So if you are having second thoughts then we would recommend you to take a licensed professional's help for safety. But we hope our How To Tee Off An Existing Propane Line is somewhat helpful for you.