Of course, a bed makes you feel warm and cozy but it should look good too and the headboard can make a great statement. As a bed needs support for the mattress a headboard also needs the support of a frame. So follow our step-by-step the easiest way Can You Use a Headboard Without Frame.
Can You Use A Headboard Without Frame?
There are beds available on the market which come with a headboard but they might be a bit too expensive and that's why you might not want to spend that much on buying a headboard. Nowadays people are more into trying DIY things to decorate their homes. So that means you can also do DIY headboards for your bedroom.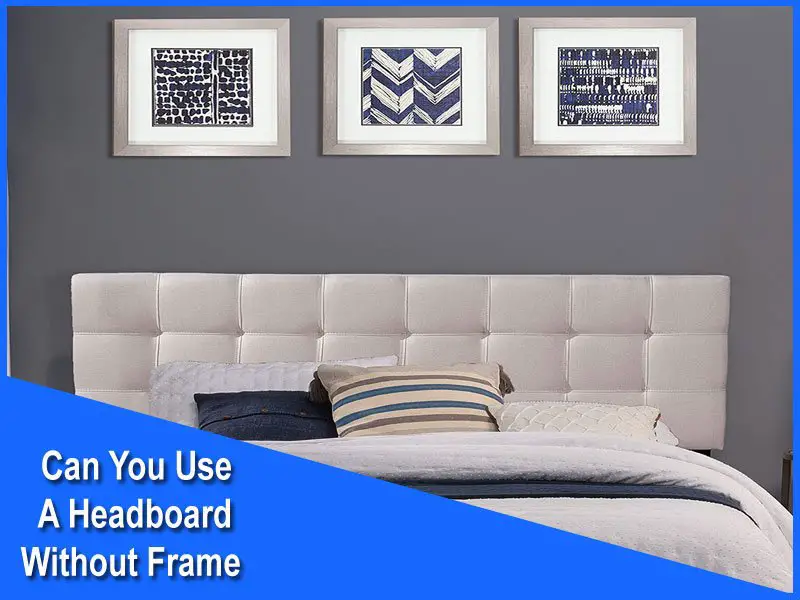 Finding the right size and style of a headboard frame can be hectic as finding the right bed for your bedroom. That's why people oftentimes wonder can you use a headboard without fame, and we are here to discuss all that in detail. 
Do Headboards Need A Frame?
A headboard is a part of your bed that saves your head from getting bunked on the wall or gives you the back support and comfort that you need to relax after a stressful day. The headboard is usually attached to an existing bed frame. 
So in order to make a headboard work you have to have a mattress and some sort of foundation on some sort of frame that you are already sleeping on. If you've got that, great! If you want to get that, that's also great. 
But what if you want a headboard but are not feeling like buying a frame for that. So now the question is, can you do that or not? The answer is yes. That is possible. You can use a headboard without a frame attached to it. 
As you know a headboard can be mounted in several ways, and there are endless possibilities that you can enjoy the comfort of a headboard without investing in a frame. 
There are several ways headboards can be used. Such as wall-mounted headboards, free-standing headboards, stand-alone headboards, strutted headboards, etc. Even you can also show your creativity by doing DIY headboards that will give your master bedroom a new and fresh look.  
Using A Headboard Without A Frame
If you want to use a headboard without a frame wall hanging one works really great in that case. People tend to make DIY headboards that work just perfectly while hanging securely on the wall. 
There are a lot of people that are transitional or folks that don't want to go and buy a big heavy headboard. That's why there are great options that will work just fine. 
Stackable Ikea shoe cabinets can work great as a headboard. They have storage and also provide back support while placed as a headboard. They are very modular. You can put books, you can put jewelry inside them. They are very narrow and you can stack them up all the way to the floor.
When you think cozy there's nothing like putting a beautiful sumptuous pillow up on the wall. Meaning an outdoor bench cushion hanging on the bedroom wall as a headboard can also add a great look.
You can also use some designer costumed hooks to hang the cushions on the wall. This will be comfortable as any expensive tufted headboard on the market and you won't even have to invest that much.
If you don't have the room for a cushion you can also use a smaller-sized quilt, which will somewhat serve as a headboard. It will protect you from the coldness of your walls and also support your back while you'll lean on them. They have gorgeous texture so you won't have to feel the hardness of the wood headboard. 
You can also those rustic-colored wood dividers as a headboard. They will give an instant warmth to your room and makes a great headboard and they can also stand on their own so you don't have to worry. You can add them according to your bed size too. 
You might also like
Final verdict
So with all these saying you can already get the whole point of choosing a headboard. Meaning you can buy those expensive ones which do not need any extra frames or can also incorporate your creativity by using different things such as headboards. So that means you don't need to worry about can you use Can You Use a Headboard Without Frame or not. Cause you definitely can.
Frequently Asked Questions (FAQ)
How To Attach Headboard To Wall
Headboards are often one of the first things people notice when they enter a bedroom, so it's important to make sure they are properly secured to the wall. There are a few different ways to do this, and the best method will depend on the type of headboard and the wall it will be attached to.
The most common way to attach a headboard is with screws. This is the easiest method, but it does require a drill. Start by holding the headboard up to the wall where you want it to go and use a level to make sure it's straight. Then, mark the spots where the screws will go. Drill pilot holes into the wall and screw the headboard into place.
If your headboard is particularly heavy or you're worried about the screws coming loose, you can also use wall anchors. Wall anchors are small metal or plastic devices that expand when you screw them into the wall, creating a more secure hold.
To use them, just mark the spots for the anchors like you would for the screws, drill pilot holes, and then screw the anchors into place.
Once the headboard is secure, you can add any finishing touches you like. If it's a fabric headboard, you may want to add some trim around the edges.
Or, you could add a few decorative pillows to make it even more inviting. Whatever you do, make sure your headboard is securely attached to the wall so it can last for years to come.
Can You Use A Headboard Without Attaching It?
A headboard is not a necessary piece of furniture in the bedroom, but many people choose to use one. Headboards can add a decorative touch to the room and can also be functional, providing a place to attach reading lights or other bedroom accessories.
You don't have to attach a headboard to the bed frame, but if you do, it will be more stable and is less likely to slide around or fall over.
Can You Attach A Headboard To Any Bed?
Most beds come with a headboard already attached, but there are some that don't. If you're looking for a headboard or you're wanting to switch out your old one, you might be wondering if you can attach a headboard to any bed. The answer is yes, you can attach a headboard to any bed, as long as the bed has the right type of frame.
There are two types of bed frames when it comes to attaching a headboard – those with posts and those without. If your bed has been posted, then you can simply attach the headboard to the posts using screws or brackets.
If your bed doesn't have posts, then you'll need to use a headboard bracket. Headboard brackets screw into the bed frame and the headboard attaches to the bracket.
Once you have the right frame, attaching the headboard is pretty straightforward. If you're using screws or brackets, you'll just need to follow the instructions that come with the headboard.
If you're using a headboard bracket, you'll need to place the bracket on the bed frame and mark where you need to drill holes. After that, it's just a matter of screwing the bracket into the bed frame and attaching the head.