A sideboard also called a buffet is an item of furniture traditionally used in the dining room for serving food or displaying serving dishes and for storage. Some people use the words buffet and sideboard interchangeably. 
Buffets have larger legs and are usually kept in the dining room to self-serve food or for displaying cutlery items. On the other hand, sideboards have very smaller or no legs and can fit within areas of the home other than the dining room. 
When it comes to styling your sideboard or buffet many people prefer placing gorgeous-looking mirrors on the wall with other decorative pieces. So if you are thinking how big and high should a mirror be above a sideboard then this might be a tough nut to crake. 
How Big And High Should A Mirror Be Above A Sideboard | Following Easy Methods
There are mirrors in each household and it is kind of a staple piece in any household. There is amazing kind of mirrors that have a beautiful shape that becomes a work of art or a focal point on their own. So when choosing such kind of a piece you must consider its purpose. 
If you want a mirror for your sideboard, then you need something big and special which will be the main focal point of that area. To highlight a sideboard wall you need a big masterpiece of a mirror that will enhance the beauty of that whole area.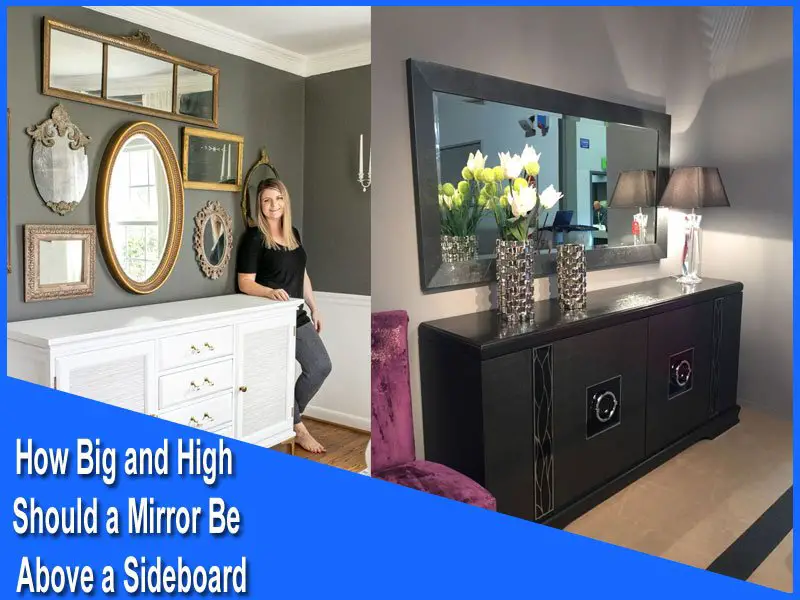 Usually, the size of a mirror for a sideboard depends on the size of that sideboard. So you should always choose a mirror that is about two-thirds of the sideboard. But make sure the mirror is not bigger or too smaller than this. 
Because the mirror is bigger than the sideboard then it will overpower the look of your sideboard and if the mirror is too small then it will not be able to complement the sideboard wall or other accessories around it. 
Moreover, if you have a hanging mirror with an antique touch to it then make sure it's a little bit tilted forwards so it'll reflect all the beautiful things you've purchased for that room. 
But if you are purchasing a mirror for your buffet then you need something smaller than this size. Because if you install a big mirror on the buffet wall it will overlap the beauty of your dining accessories which you really don't want. 
Should A Mirror Be Above A Sideboard
The height of a mirror for a sideboard wall depends on the height of that sideboard, the layout of that room, the area you are placing your sideboard in, and the purpose you want to use the mirror for are all related before you choose the height of the mirror. 
Mirror brightens a room; they reflect everything, including natural light. That's why when you want a mirror for your sideboard you want something of a similar height to your sideboard but definitely not larger than that. 
Or you can also choose a little less height of a wall hanging mirror for your sideboard. This will accentuate the esthetics of that room and complement the whole decoration. This will also lighten up the room and help your space look larger. 
When it comes to finding a mirror for a buffet then you need to be cautious because again you should not have a mirror larger or taller than your buffet and it will be helpful if the mirror has somewhat two-thirds of the height of the buffet. 
This is because you do not want the mirror of a buffet wall to overpower the whole idea of showcasing your dining decoration. Make sure the mirror and the sideboard or buffet have at least a 4 to 6 inches gap between them.
How To Decorate A Sideboard Or A Buffet?
Most of the time and ideally you place the buffet or the sideboard against the wall. So for you to start decorating it is best to place a large piece of art or a mirror above the buffet or the sideboard. From there it will guide you in choosing the rest of the accessories needed on top of the buffet. So it could be large wall art, a mirror, a photo, a wall clock, and, whatnot. 
When decorating with a mirror do not overcrowd the space. Too many pieces of the decor will lose the sense of style and it's impractical as well. Grouping of three works really well; it gives balance and creates focal points. 
You might also like
Final Verdict
Make sure to use accessories that are different in height or size to create depth. If you follow all these things before decorating or choosing a piece for your sideboard don't overthink about how big and high should a mirror be above a sideboard and rather trust the process. 
Frequently Asked Questions (FAQ)
How Big Should A Mirror Be Over A Sideboard?
There's no definitive answer to this question as it depends on the size and style of the sideboard, as well as the size and shape of the room. However, as a general rule of thumb, a mirror should be around 60-70% of the width of the sideboard. For example, if your sideboard is 1.5m wide, then a mirror measuring around 90cm-1m would be a good option.
How Big Should Mirror Be Above The Console Table?
A mirror is a great way to add light and style to a console table. But how big should the mirror be? Here are a few things to consider:
-The size of the console table: A small console table can be overpowered by a large mirror, while a large console table can handle a mirror of any size.
-The style of the console table: A minimalist console table looks best with a small, simple mirror, while a more ornate console table can handle a bigger, more decorative mirror.
-The placement of the console table: If the console table is against a wall, a large mirror can help create the illusion of more space. If the console table is in the middle of the room, a smaller mirror will do the trick.
In general, a mirror should be about two-thirds the width of the console table. But ultimately, the best way to decide is to play around with different sizes and see what looks best in your space.
How Big Should A Mirror Be Over A Cabinet?
The size of the mirror is an important consideration when hung over a cabinet. The general rule of thumb is that the mirror should be approximately two-thirds the width of the cabinet.
However, this may vary depending on the specific cabinet and the desired look. For a more dramatic look, a larger mirror may be used. Conversely, a smaller mirror can create a more subtle look. Ultimately, the decision of how big the mirror should be is a personal preference.