Stripping paint from wood furniture is very tiresome work to do. It takes a long time and manual labor to scrape off the paint layers. But if you know the right tools and products then paint stripping can be done in minutes. 
How To Remove Peeling Paint From Wood
Here we've mentioned the 5 best ways How to Remove Peeling Paint From Wood which works like magic and makes your job much easier. So go through all of the details and give them a try.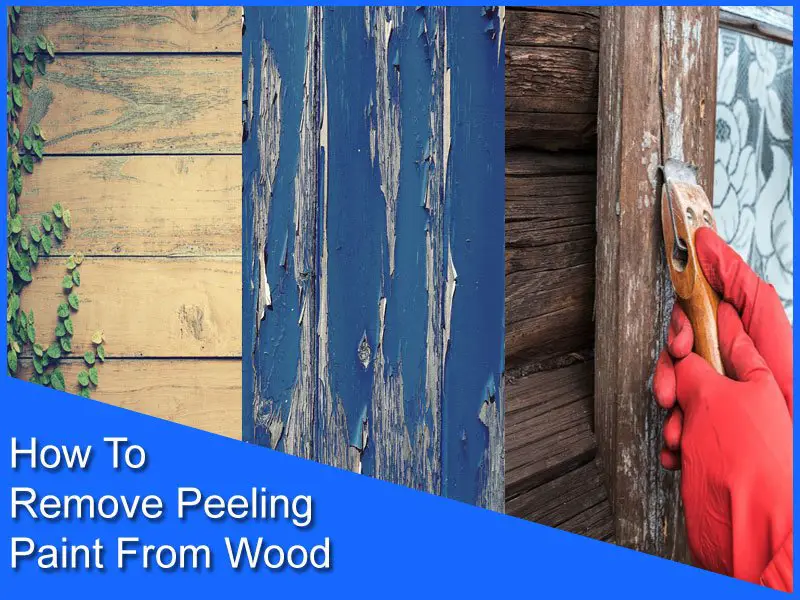 1. Using A Paint And Urethane Striper 
Using a chemical stripper to ripe off old paint or latex paint from wood furniture is an easy process to follow. Most people who are keen on doing different DIY projects at home can use this paint and urethane striper to avoid all the hassle of paint stripping. 
As stripers come in a gooey gel-like form you need to wear gloves and glasses to protect your hands while applying. So when you are using a chemical stripper you want to use a lot of it. You have to build a thick layer up and spread it out as well as you can. 
The more thick the layer is the more it's going to down to strip into the paint. Use a paintbrush to apply the striper layer. After you apple, the striper waits for 30 minutes. When it starts to bubble up you have to scrape off the paint. Use paint scraper tools to scrape the paint and do not rush while scraping. 
After you're done scraping use a grease degreaser on top of the wood which will eliminate the stickiness of the striper you used earlier. 
2. Dewalt Radom Orbit Sander
This is one of the oldest ways to strip off old paint from furniture and carpenters use this process till now. So to rip off the old paint using 5-inch and 80 grit sandpaper on the machine will make the whole process much easier. 
It is coarse and meant for striping back products faster. While sanding always start with the corners and work your waterway through you have a direction to follow. But while using a sander make sure to wear a mask and glasses to protect them from the paint dust.
Do not use extra pressure while sanding or it will ruin the wood grains and pull out the varnish as well which you do not want. You can attach a shop vac on this thing so the dust does not fly around your shop. This is a labor-intensive process but it does the job just fine.
3. Wagner Furno Heat Gun
Using a heat gun to strip off paint from old furniture is an in trend nowadays and is getting very popular as it takes less time and labor. With a heat gun, you have to work in small sections. Meaning applying heat in smaller areas and then immediately scraping off the paint from that area before it cools down. 
But this does not work on all kinds of paint like the mineral paint which does not scrap off. So it's just a matter of testing to see if it's going to work for that specific paint or not. Using a heat gun is less messy and it spread less paint powder which you want. 
But there are some safety issues that you have to look after. Such as, you have to use heat protector gloves, have to work in a ventilated area, have to have a fire extinguisher or a bucket of water for any hazards, etc. 
4. Oven cleaner 
You might be surprised to know that oven cleaners also work great when it comes to stripping off paint from wood. So people are now doing experiments with oven cleaners to remove paints at home. It is also a very hardy item in any household. 
When spraying the oven cleaner on the surface make sure you're applying a thick layer on top. Because the more thick the layer will be the deeper it will go into the paint layers. With oven cleaner, you have to wait for an hour and 15 minutes until you scrub. 
When the time is up you will see the paint bubbling on top. To scrape off using a soft brillo scrub pad and wet it in some warm water. So put some pressure while scrubbing the paint off. This is less messy than using a striper because it does not leave any grease on top. 
5. White Distilled Vinegar
Using white distilled vinegar also works great but not for all types of paint. To use vinegar for paint stripping first take some vinegar to a bowl and heat it in the oven for 30 seconds. Then take a paper towel and soak it in the vinegar and rub it on top of the paint. 
Leave the vinegar for 15 minutes. Then take a scraper and gently start scraping the paint off. This method works great for smaller areas. But if you want an eco-friendly method this can be it. 
You might also like
Final Verdict 
If you constantly work with furniture and paints then you must know how difficult it is to strip off paint from old furniture. But our 5 best ways of How To Remove Peeling Paint From Wood will make your job like butter. Let us know which one worked best for you at the end.