A sand cloud towel is the ultimate beach towel that you can carry and usefully hassle-free. They are thin and lightweight; it dries three times quicker than any normal beach or bath towels. It's also sand resistant so when sand gets on it you can easily shake it off. 
If you are also using one of these towels then you should also know How To Wash Sand Cloud Towel after you've used one on the beach and get off all that gunk and sand out of the towel. 
Now you don't have to worry about sand sticking to your towel when you're at the beach. This towel is so compact that it folds up to practically nothing. So when you are going to the beach and taking towels for your whole family you don't have to pull a wagon behind you just for towels. 
Benefits Of Using A Sand Cloud Towel
Sand cloud towels are made of Turkish cotton towels which makes them extremely soft. They are multifunctional. Meaning you can use them as a blanket or a throw or shower towel and of course as a beach towel. 
These towels come in different colors, different patterns, and in many sizes which makes them easy to use for several purposes. One of the most special factors of using these towels is when you purchase 10% of the profit goes towards marine conservation.
These towels take less space in your backpack when you are carrying them than the other regular towels which are much heavier and take a lot of space in your bag. 
These towels are known for their sand resistance quality. The weaving pater of these towels makes it harder for sand or dust to stick that easily and it also resists water from seeping through easily. So they are perfect to use in beach settings. 
Washing Technique: How To Wash Sand Cloud Towel
One of the problems that you can get over time with your towels is that after a while they just don't seem to be as absorbent, sometimes they feel stiff and scratchy and it has to do with how you're laundering them. The same might also happen for the sand cloud towels if you do not lauder them properly.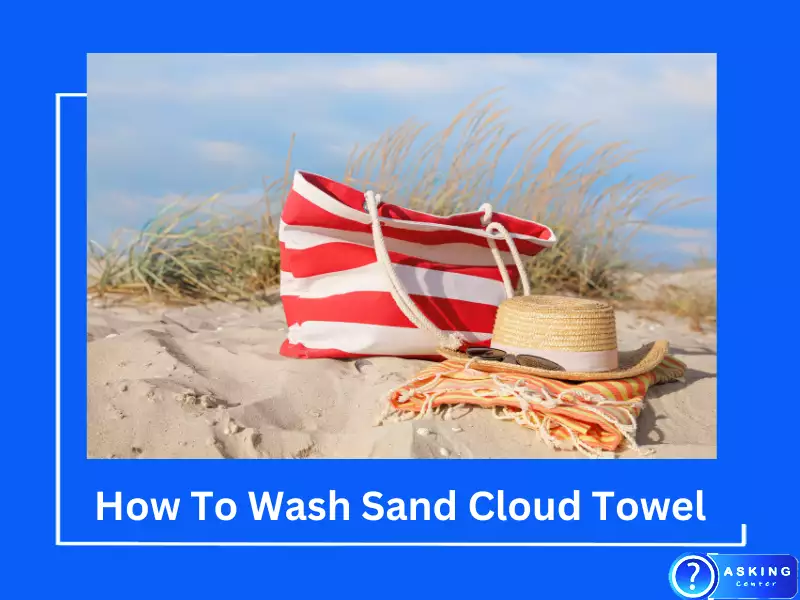 This could happen if you're using a liquid fabric softener which over time kind of coats the fibers on the towel and oftentimes they might start stinking if the washing is not done properly. As you already know that these towels are not that absorbent and do not allow sand or dust to go into the fabric but they do need to be washed methodically to get the most out of them.   
Pre-washing 
Sand cloud towels are so unique and special that the more you wash them the more absorbent and softer it gets. It is always recommended to pre-wash these towels. To pre-wash use a bucket or fill up your tub with cold water.
Then soak the towels in the water for at least 12 hours or overnight. Then when you are done soaking does not squeeze out the towel to remove excess water. Rater just hangs them in the hanger and lets them dry by themselves. 
Regular Washing 
It is always mandatory to wash your towels after every use or at least 2 to 3 times a week and that also goes for sand cloud towels. Here we've mentioned two methods to wash and sanitize your towels at the same time which will be a lifesaver and will increase the longevity of your towels. 
Method 1
If your sand cloud towel is getting stinky then there is a way to handle that. There are two ways you can remove that stinkiness from your towel. First, you can pour about half a cup of white distilled vinegar, and then you'll run the wash with just the vinegar and no detergent. 
Then when that cycles through you'll wash it again adding your detergent, only this next time you'll add the vinegar in your rinse cycle. A half a cup is fine which rinses out beautifully. There will be no odor no smell and the towels will come out fresh smelling and you can then put them in the dryer. 
One thing you need to remember is that you should not load up your washer because there should be plenty of water that can get around the towel and do not use too much detergent. 
Method 2
Another way to make your wet towels bacteria-free is to give them a baking soda bath. If your sand towels are sitting in the laundry room for hours it is a good idea to sanitize and deodorize them with baking soda which will make the towels fresh and germ-free. 
So first you need to use hot water for your sand towels and add a cup of baking soda to them. After the cycle is done use any kind of detergent to lightly clean the baking soda off from the towels. you can use this technique once a month to clean your sand towels inside out. 
You might also like
Final Verdict
As special the sand cloud towels are the washing technique should also be special. So whenever you are using them you need to know how to wash sand cloud towels the perfect way so they last long and stay odor-free always.