Accent chairs are like a statement piece in a living room. Placing one or two accent chairs in between a sofa set or divider makes a beautiful combination that gives you an elegant look. That's why you can place an alternate color accent chair for a gray sofa or a brown one. 
To alleviate the beauty of a brown sofa you need to know What Accent Chairs Go with Brown Sofa? So you can pair it with a colored accent chair that will pop with the whole decor. 
Brown is the color of nature and when it's a brown sofa that defines elegance. Brown sofas are one of the most popular choices of all time. It is so versatile that most of the colors can be combined. 
What Accent Chairs Go with Brown Sofa?
The color of your accent chair totally depends on your personal preference. But it also needs to look equally effective on your guests. So that's why you should decorate the living room which will refresh your and your guest's mood instantly.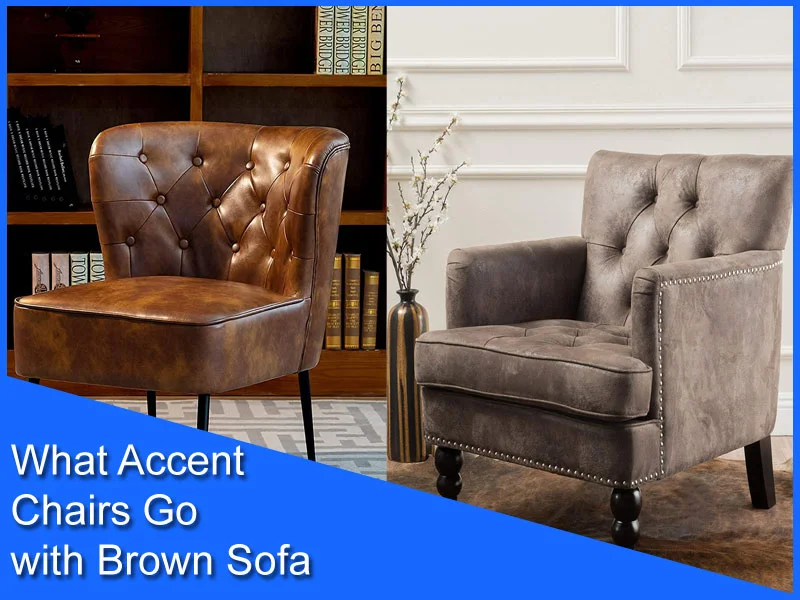 Accent Chairs For A Brown Sofa
If you have a brown sofa that needs some lightness or color to shine, then pairing it with a similar color shade or contrasting color works well.
If you have a dark brown sofa you can choose light brown, blue, beige, gray, etc. color and if it is a light brown sofa then white, green, mustard yellow, etc. will balance the whole concept. 
Mixing different color furniture makes the atmosphere in the living room more welcoming and soothing. 
Blue Accent Chairs
Brown is a popular color for living room furniture mainly sofas, because of its versatility and how forgiving it is for stains and stains. Also, it is very easy to pair a brown sofa with other colored accent chairs.
Blue is a perfect option for accent chairs which look great with all types of brown sofas. If your sofa is dark brown, it will be good to look with ocean blue, indigo, spruce, or a navy blue colored accent chair. 
You can also experiment with other types of blue shades too. This gives you a complete living room vibe. For a light brown sofa, you can go with royal blue, peacock blue, stone blue, or admiral blue colored accent chairs. 
Accent Chair In Mustard Yellow Color
Mustard yellow or bright yellow is a color that helps lighten up any kind of decor. That's why with your dark or light brown sofa you can easily pair 2 mustard color sofa on each side. Same way bright yellow accent chairs will help brighten out the real beauty of your brown sofa. 
If your brown sofa is soaking all the light, then placing yellow accent chairs will make it shinier and aerie and fresh. 
Accent Chair In White / Beige / Cream Color
A white, beige, or cream-colored accent sofa brings out the aesthetic beauty of a brown sofa, unlike any other color. Sometimes in a low light living room, a brown or gray sofa can look even darker and makes the whole look somewhat heavy. 
So you can eliminate that darkness by simply placing a pure white or beige or a creamy white colored accent chair that will balance the whole look. 
Accent Chairs In Green
Green is also being a wonderful combination for a brown sofa. You can choose other shades of green as well. Like apple green, teal green, pine green, viridian green, olive green, etc. 
As green is also a color of nature like brown so you're a green accent chair will also complement the look and will provide you a natural calming experience when you'll enter your living room.
Accent Chair In Shades Of Brown
Choosing different shades of brown for an accent chair to pair it with your brown sofa is another approach to match or mismatch your living room decor. This will create a classy combination that will take your overall ambiance to another level.
You can choose different shades of brown like copper brown, tortilla brown, warm tan, russet brown for a dark brown sofa, and coffee, walnut, brunet, syrup brown color for a light brown sofa. 
You might also like
Final Verdict
This way you'll get to select What Accent Chairs Go with Brown Sofa and the whole process will be much easier than you think. Other than these colors you can also go for more vibrant or mild ones.