Renovation of your kitchen is a constant process that people now prefer frequently. Seeing an old kitchen is like a punishment that's why remodeling or renovating it is mandatory. 
If you're also thinking about relocating your kitchen sink you must also know, How Far Can You Move a Kitchen Sink? This is the most important part of any kitchen renovation cause the kitchen sink is like the eager beaver in any household.
When you are renovating your kitchen a new sink replacement or relocation of your kitchen sink is pretty common. There was a time when relocation of a kitchen sink was a hefty job but now this has become a much easier job of plumbing. Here we will let you know how far can you go in terms of relocating your kitchen sink. 
How Far Can You Move A Kitchen Sink?
A kitchen sink, by all means, leads to a very active lifestyle from food preparation, workflows to cleaning chores, kitchen sink is fiendishly a useful feature without which you simply cannot go a single day.  
That's why your kitchen should be somewhere where you can use it without any complications or hassle. When it comes to relocating your kitchen sink you can just move it anywhere in the kitchen, from one wall to another, from one corner to another, and even from one room to another.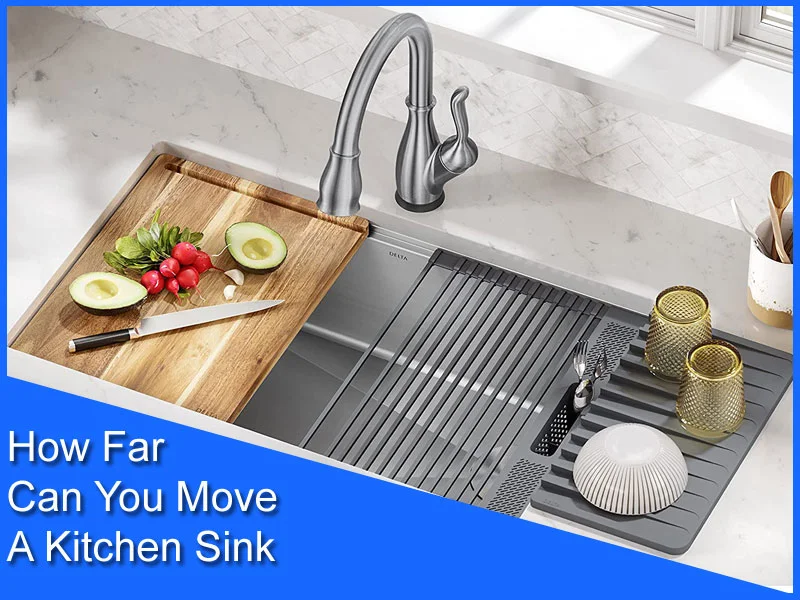 Adding new pipe-fittings, push-fittings, adjustable PEX water supply lines, and some other adjustments makes the sink relocation much easier. The way to add all these things in your kitchen while relocating plumbing in a kitchen is through the floor joists. 
If your basement is unfinished you will not have to cut-open the kitchen floor or wall to do this, you can do this all from the open basement underneath your kitchen. This way all your fittings will come across the floor joists or from the ceiling of your utility room. This way all the pipe fittings will be hidden and fixed properly. 
How To Prepare The Flooring Space?
If you have a wooden floor or tile food or any kind of floor it will be much easier to pull out the types or cut the wooden floors to fit the new pipe fittings. 
Here you'll need to cut a 14-inch section of your floor out centered on your drain line from point A to point B, drop down into the floor, and bring them to your sink base area. 
Cutting your floor for this kind of particular job is much easier and safe because sometimes your eclectic lines or air conditioning lines can come in between when you try to go through the basement ceiling or through the walls. 
To cut your floor use a circular saw and set the blade according to the thickness of your floor. Measure and mark your floor using a pencil so you know when you need to make the cuts. Make sure to wear your safety glasses so no flying fragments can go into your eyes. 
There are going to be some nails in your ply flooring which you have to take out using a ply bar to take off that cut piece. After you pull out the flooring you'll see your chase and you'll be going right through it with all the plumbings.
How To Relocate Your Kitchen Sink From Point A To Point B?
First use some level to make the drill marks, exactly right across from one another so that you can pull through the water lines, drain line, and other fittings. 
To pull the water lines use a PEX water supply pipe which is flexible and bendable. Now attach it pipe with the pipe of point A water supply line and pull it through the chase holes towards point B. 
For the drain lines attach PVC pipes to make them larger and insert them from the chase holes as you did for the water lines. Now to attach the drain pipe in point B you need to cut a 2×2 14-inch wood and attach it to the studs. This way you can take out your drain line and strap it to the wood so it stays sturdy. You can also mount your water lines this way. 
You might also like:
Final Verdict
Now your new location is ready to install your new kitchen sink. Here you can set up your old kitchen top or completely install a new one. As you renovate your kitchen it's better to do everything new so everting just comes together nice and shiny. This way you don't have to worry about How Far Can You Move a Kitchen Sink because you can do it anywhere you want. After you're done relocating you can just fix the floor and you are good to go.