It will be pretty tough to find someone who does not love a good modern accent chair in their home. What To Put Between Two Accent Chairs? They come in various colors, shapes, sizes, designs, and varieties. They are so versatile that people tend to buy several chairs for different places at their home, like the living room, game room, bedroom, and so on. 
What To Put Between Two Accent Chairs
But putting two chairs together might seem a bit odd so you must be thinking about What To Put Between Two Accent Chairs? And that has a pretty easy solution. So let's discuss what we can put in between two accent chairs?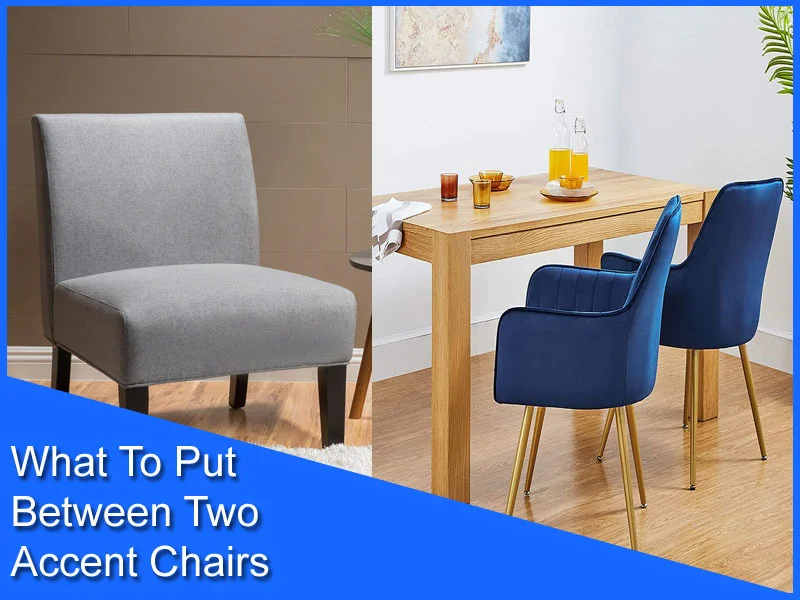 Putting A Large Sofa 
It is pretty common to place accent chairs in the living room where you might also have a sofa set or a single large sofa. The purpose of putting accent chairs in the living room is to create more sitting arrangements and also create a mismatched eye-catchy look. 
If you have two different or similar accent chairs in your living room you can put a large sofa in between so it creates a nice sitting area and will also complement the overall decor.
Make soiree the accent chairs have a little touch of color that your sofa has. So here you can put similar colored cushions on your accent chairs so everything binds together perfectly. 
Placing An Accent Table
It is true, that you can put accent chairs in any empty places at your home. But it will look somehow unfinished if there are just two accent chairs sitting in a corner. To make it look complete you can put an accent table in between those two chairs that will complement the whole sitting arrangement.  
Here if the chairs are both in the same color and design choose a neutral colored accent table. This will bind the whole look together and make it elegant.
Use An Ottoman
Accent chairs and ottomans both have their own individuality and beauty. But when they are coordinated together it creates something classy. 
If you have two accent chairs just placed somewhere; a medium-sized boxy ottoman can will look really marvelous with them. A small to solid colored medium-sized ottoman bring out the beauty of those accent chairs and will give a contemporary vibe. You can also place a leather ottoman in that place and put a small flower vase on top of that ottoman. 
Put A Large Indoor Tree
Putting indoor trees is a very popular trend nowadays. But when you'll place that tree in between two accent chairs it will elevate the natural beauty of the chairs and the tree itself.
But if you are not comfortable with a large-sized tree then you can also use a smaller but fuller one. Here you can place different accent chairs on each side of the tree. 
Put A Coffee Table In Between
Coffee tables are versatile and elegant anywhere you put them. But when you'll place a nice classy-looking coffee table between two accent chairs they will create a whole new look for your house. 
These kinds of looks are really popular to create a balance and will provide an extra sitting area where you can enjoy having a cup of coffee in the evening or chatting with your friend. 
Place A Large Floor Lamp
Putting a large floor lamp between two accent chairs is an easy fix. It will look aesthetic and will create a nice lifting if you want to just sit down and enjoy reading your book. 
In fact, a nice large floor lamp will make the whole sitting area cozy and welcoming and will make your accent chairs pop up even better. 
You might also like:
Final Verdict
These are some simple pieces of furniture that you can use in between your accent chairs. But there are definitely other things that you can put between two accent chairs. Such as a bookcase, a large flower vase, storage chest, side table, end table, etc. So now you don't have to think much about What to Put Between Two Accent Chairs and place any one of these pieces in between for a complete look.