Bunk beds are the parent's first choice if they have a smaller room or more than one child. They surely provide you with space and a hassle-free bedding system.
If you are a parent, then there will always be a question lurking behind your mind. Can Bunk Beds Collapse? Are Bunk Beds Safe? Here you will get answers to all your concerns regarding bunk beds and their safety issues.
Can Bunk Beds Collapse
If you are thinking is there any possibility of your bunk bed collapsing or can your bunk bed collapse then, yes. There is a possibility of the bunk bed collapsing. There are more than 36,000 cases of injury even death caused by bunk beds filled each year. 
So if you are thinking of buying one then you should be very careful to think it through. The reason behind bunk beds collapsing can be many. This collapsing is even more severe for the kids.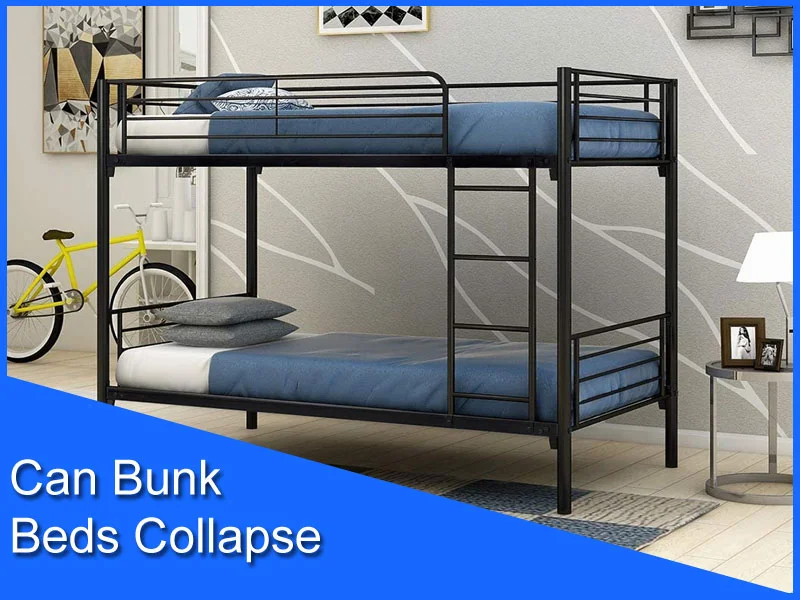 If Bunk Beds Are Safe Or Not?
Usually, bunk beds are safe to use for kids and for adults. Though there are some dangers related to bunk beds they are completely preventable. The percentage of a bunk bed collapsing is very low but who knows who's going to be the unlucky one.
If you are also thinking about purchasing one, then you need to know about the dangers and safety measurements of a bunk bed. When it comes to kids' bunk beds safety should be highly regarded. 
There is no other important thing for parents than keeping their children safe. So try to do some research on bunk bed materials, brands, and ways to make it safer for the kids before you purchase one. 
Sons Of Bunk Bed Collapsing
As you've already got a hint about bunk bed collapsing issues you should also know why they collapse and how you can prevent them.
Before purchasing a bunk bed, especially for kids you need to do some research about the material, it's made of, how it is manufactured, and other related information. Make sure to buy a strong, sturdy one that has durable material. 
Bunk beds have several elements attached with them, like rail guards, ladders, mattresses, etc. if anyone those elements are not installed properly or get loose there might be happened any kind of accident. You need to make sure that all the parts are screwed properly and there is no issue with your bunk bed
Bunk beds can hold a certain amount of weight. But if you put too much weight on it it might collapse. No more than one person should be allowed on the top bed.
Bunk Bed Safety Tips
Bunk beds might have their own safety issues and dangers. But it is possible to stop them from appearing by taking simple safety precautions. Set up some rules that the children should follow when using the bunk beds. These should include:
Avoid bouncing around on the bunkbed; particularly the top one
Stop your child from climbing on the bed; the bed isn't a climbing frame
No playing on the bunk bedroom
One person should be allowed on the top bed  
Don't let your children hang anything on the bunk bed
Keep your bunk bed away from blinds, cords, windows, ceiling fans, lights, and heaters
When placing the bed don't rely on the wall to serve as a guard-rail
Teach your child how to use the ladder of their bunk bed safely and never rely on anything else to get on top 
Place a night light in their room so they can see their footing properly
Consider adding a carpet or a rug under the bunk bed 
Make sure there are guard rails on the sides so they don't fall off
Try to place the bed in a corner so it has the support of the two walls
Make sure to cover the bunk bed ladder while not in use
You might also like
Final Verdict
From all these safety measures you might have already understood how devastating can a bunk bed accident be. Most children are the victims of collapsing or any other bunk bed issues and it should not a nightmare for you as well. So now you know Can Bunk Beds Collapse? Are Bunk Beds Safe? Make sure to follow the safety rules for your kid's bunk bed.