Nothing makes a kitchen look messier than a pile of dirty dishes in the sink keeping up with it turns into a never-eating task. Not to mention it consumes lots of water and energy. You need to know the countertop How to Make a Portable Dishwasher Permanent solve their problems to organize your kitchen cabinet. It costs less than a permanent dishwasher and takes less space than a traditional one.
But have you ever thought about making that portable dishwasher into a permanent one?
Yes, you heard it right.
In this article, we are going to explain to you How to Make a Portable Dishwasher Permanent so can apply this great solution at home. If you live in a tiny one-bedroom apartment this can be an awesome hack for you. 
What A Portable Dishwasher Really Does?
For people who live in limited space, a countertop dishwasher is perfect for them. These machines sit in your kitchen sink and can be hooked up with the faucet. Most hold, up to six place settings of dishes and glassware while providing multiple cleaning options like their full-size counterparts. They have 360 degrees of pressurized water spraying capability that can clean your tableware thoroughly. It cleans, sanitizes, and steams your dishes. 
Problems You Might Face With A Portable Dishwasher
Making a portable dishwasher permanent takes some easy steps that you can also do on your own or you can take a professional's help by spending a few bucks. Now let us describe to you how you can set up a countertop dishwasher permanently. There are different ways to do this procedure and it might feel complicated but try to do it exactly step by step.
These countertop dishwashers are designed to have two hoses coming out at the back and those hoses are designed to be connected to an adaptor. Whenever you use the dishwasher you have to connect that adapter to the faucet and then you've got the two hoses coming into the sink and you'll have limited use of the faucet whenever you want to use the faucet. That creates problems. In a small apartment or in any limited space the space of your kitchen will also be limited.
After putting that washer on the counter you might not be able to fit in large pots and pans, after loading up the dishwasher if you want to clean that pot you'll need your sink to be clear and empty. At that time, you have to disconnect that adapter with the hoses coming out and then disconnect the hoses and have the hoses up on the counter, etc. For anyone that is quite undesirable. 
Tools you'll need for your installation 
The tools that you'll need to convert the installation are-
Plumbing tape or pipe tape
A ⅜-inch compression T fitting
A 6-inch compression hose 
A 4-foot compression hose
A ⅜-inch elbow fitting
A ⅜-inch valve fitting 
A ⅜-inch adapter fitting 
¾-inch coupling fitting
A Pipe cutter
¾-inch PVC braided vinyl tube
2 ¾-inch stainless steel hose clamps
5 Easy Steps To Know How to Make a Portable Dishwasher Permanent
The simple and easy steps to turn your portable dishwasher into a permanent dishwasher are-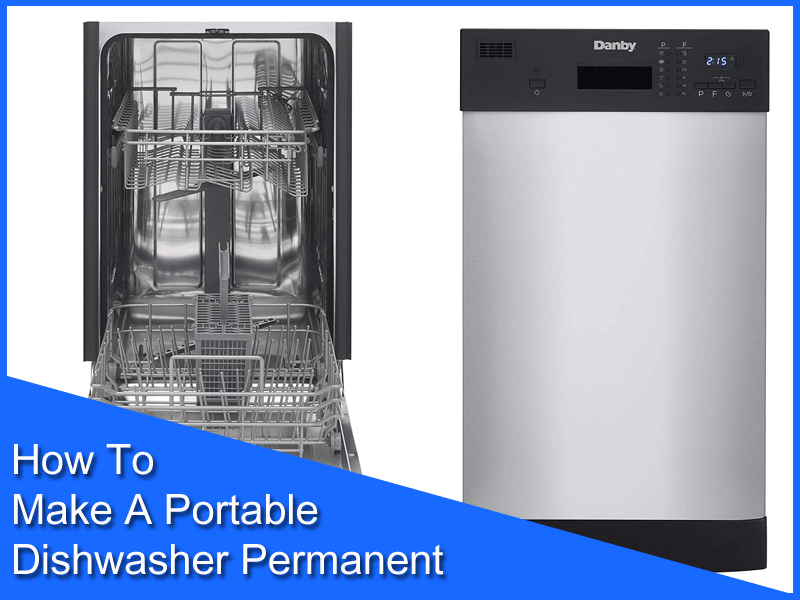 Step 1 
First, to get water to the dishwasher you'll need a compression brass T fitting and connect it under the sink to the hot water supply and reconnect the compression hose to the T. Then get an elbow fitting and connect that to the T as well. 
Step 2 
Then connect your brass valve fitting to connect a six-foot compression hose with a four-foot compression hose. The 4-foot hose will be connected to the back of the dishwasher. Here you have to connect an adapter fitting with a coupling fitting using pipe tape and connect it directly to the 4-foot pipe. This will completely connect the water supply to the washer.
Step 3
Now for the drain use the hose that was designed for the drain and cut off the end. Connect it with a 10 foot PVC braided vinyl tube and just shove the hosepipe inside the vinyl tube and clamp those two pipes with a stainless steel hose clamp. 
Step 4 
Then insert the PVC pipe through the drain opening of your sink to the garbage disposal. Now the garbage disposal will already have a semi-permanent plug which you have to knock out with a screwdriver. 
Step 5 
Now clamp the PVC pipe with the garbage disposal pipe. And that will connect everything. 
Final Words
With all these tools you'll be able to convert your portable dishwasher into a permanent one. So now you know How to Make a Portable Dishwasher Permanent by following these easy steps it will cost you under hundred dollars and you can do all the installation work in under an hour. So do try it yourself. 
You might also like:
Frequently Asked Questions (FAQ)
How do I permanently install a countertop dishwasher?
A dishwasher is a great addition to any kitchen, and a countertop dishwasher is a great option if you don't have the space for a full-sized unit. Here are some tips on how to permanently install a countertop dishwasher:
Make sure you have the correct measurements. You'll need to know the width, depth, and height of the dishwasher, as well as the size of the opening in your countertop.
Choose the right location. The dishwasher should be close to the sink and water hookups for easy installation.
Install the dishwasher bracket. This will secure the dishwasher to the countertop.
Connect the dishwasher to the water supply. You'll need to use the proper connectors and hoses for this step.
Connect the dishwasher to the electrical supply. Again, you'll need the proper connectors and hoses for this.
Test the dishwasher to make sure everything is working properly.
With these tips, you can easily install a countertop dishwasher in your kitchen.
How Long Do Portable Dishwashers Last?
A dishwasher is a machine for cleaning dishware and cutlery automatically. Unlike manual dishwashing, which relies largely on physical scrubbing to remove soiling, dishwashers clean by spraying hot water, typically between 45 and 75 °C (110 and 170 °F), at the dishes, which are then drained and pumped out of the machine.
Dishwasher use can be traced back to early 20th-century America. The first dishwashers appeared in residential homes in the 1910s. These dishwashers were large and bulky and were typically installed in commercial establishments such as hotels and restaurants. In the 1920s, dishwashers for home use were introduced, but they did not become commonplace in most homes until after World War II.
Since their introduction, dishwashers have undergone a number of significant changes. In the early 1950s, dishwashers were designed to operate on both hot and cold water supplies. However, by the 1960s, most dishwashers were designed to operate on a hot water supply only. This was due to the increasing popularity of automatic dishwashing detergents, which are designed to work at higher temperatures.
Today, dishwashers are available in a wide range of sizes, designs.