One thing that makes your kitchen look crusty, rusty, and straight-up gross is that sneaky hidden area above your cooktop which absorbs all the smoke and grease from your cooking is your Zephyr range hood. 
How To Clean Zephyr Range Hood all the greasy gunk while you cook to keep your kitchen clean but it is your duty to deep clean your Zephyr Range Hood once or twice a year. Surprised! Don't be. Like every kitchen utensils that you use during your cooking, your Zephyr Range Hood also needs that special care.
But if you've never thought of cleaning your Zephyr Range Hood then you must also not know how to clean Zephyr Range Hood in the most satisfying way you can think of. So for more cleaning tips keep on reading the whole thing.
How To Take Apart Your Zephyr Range Hood?
It becomes very easy to remove your Zephyr range hood filters, fas, grease tray, and other parts for comprehensive cleaning if you know the right way to do that. So for any type of kind of range hood first you need to take down the filters because it is the most important part of this specific cleaning project. So let's discuss the ways how you can remove those parts from your hood.
To clean the filter is not enough to fully deep clean your Zephyr range hood. Because there are some other parts included which also needs cleaning at least once a year. So to take out those parts follow the steps mentioned below: 
Step 1
The first step is always to start by taking down the center filter. To do that push the filter into the back and pull it out downwards. Each of the filter parts will come out the same way. 
According to the size of your range hood, there can be 2 to 3 filter parts. So just take down all the filters and keep them aside. So just slid them up towards the front first and then pull them out. 
Step 2
Now what you need to do is remove the greased pan which is right at the back. If you are in a greasy environment or you've cooked a lot, you'd have some condensation. Fo the average cooking environment, you can go for years without cleaning this but we recommend generally about once a year. Put that into the sink right away.
Step 3
Now that you've removed the Zephyr filters you need to check and clean your fan blades. Most low-profile model hoods have a dual motor, dual fan system, it draws the air from both sides of the hood. That's the best way to have it and get an even airflow. 
Now the idea here is, there are screws in the protective gear of the fan which keep it in place and you need to remove those screws using a screwdriver or a drill. Now remove those screws and pull down the protective cover and then you'll have a central hub there. 
On the center hub, it'll show you which direction to loosen and tighten because some of them are threaded in reverse. So loosen the center hub and take it out. Now you'll have to pull the side covers down. 
The reason that you want to do this is if you have a barbecue environment or you are using this in an outside environment or you have a lot of smoke or a lot of greasy dirty environment you'll get buildup on the blades. That will reduce the airflow, it'll increase the noise, and it'll also reduce the motor life in the fan. 
These fans have a metal blade, powder-coated and very effective which will last you a lifetime. So pull the fan out and keep them aside. 
How To Clean Zephyr Range Hood
Cleaning your Zephyr Range Hood requires three main parts which are the filter, the greased pan, and the fan. These three things get the dirtiest throughout time and you need to take them apart for cleaning. So let's discuss the cleaning hacks: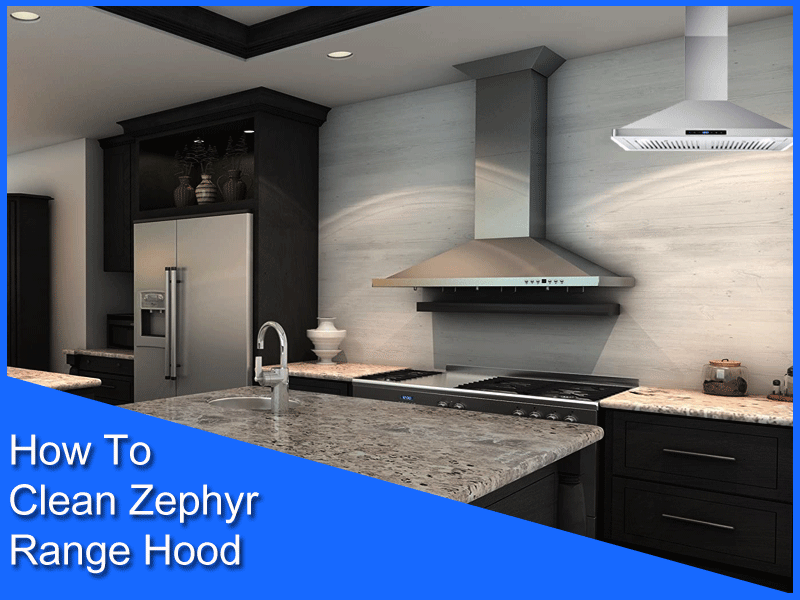 Filter Cleaning
Step 1
To get things started fill up a bucket of hot water like boiling water and then add in a few scoops of Oxi clean or degreaser or whatever you choose to use. Then dunk the filter in there. 
Step 2
Now leave the filter in there for half an hour depending on how gross the filter is. Once you pull it out if you need to you can scrub it with a bristle brush. 
Step 3
Then rinse the filter with lukewarm water and let it dry. Once the filter is dry you can reattach it to your Zephyr Range Hood.  
Fan Cleaning
While you're soaking or baking your filters feel free to give the innards of your exhaust fan a nice cleaning too. Use a heavy-duty degreaser or an enzyme cleaner to clean the fan. Use a bowl of water and mix your degreaser and soak in your fan for 15-minutes. Let that break down the grease and then scrub it well in a rush. Lastly, rinse it and dry it. 
Hood Cleaning 
When the inside of your range hood is greasy the outside must be too. So if you have a super stubborn grease buildup on the exterior of your hood put a little bit of mineral oil over and then wipe it off with a paper towel then use soapy water to wipe the whole thing down. 
Grease Tray Cleanup 
Don't through the grease buildup on your range hood tray in the sink use a paper towel to wipe off the grease first. Then let it soak in soapy water and after an hour rinse, dry, reinstall. 
You might also like:
Final Verdict
So there you go on how to clean Zephyr Range Hood using the simple and easy tips we've just mentioned and make it a habit to clean your Zephyr Range Hood.