If you like doing DIY projects with woods, then there is no better option than acacia wood. This type of wood is expensive but gives you a great outcome. They are really easy to stain and work with. So if you want to know the best way How to Stain Acacia Wood then check out our guideline below. 
What Is Acacia Wood?
Acacia is commonly known as the wattles or acacias. They have unique fern-like leaves and showy clusters of fragrant; yellow or white fuzzy flowers
Acacia usually grows to the height of 40-feet. Some types of acacia trees can reach up to 70-feet in height and 3-feet in diameter. Acacia wood is extremely hard and durable. It also resists water damage and scratching. That's why acacia wood has become a favorite for making furniture and on construction sites. 
Can You Stain Acacia Wood?
Like any other kind of wood, you can also stain acacia wood. If you are working with acacia wood, then you need to know the proper ways of staining and products that you can use for staining. After staining acacia, you can use oil stains, water-based dyes, and pigmented waxes. 
These dyes will bring out the natural color, beauty, and wood grain design more stunningly. But you must know that staining acacia wood can be time-consuming and complicated. If the wood gain color is already good enough on its own, then it will be good to leave it like that. 
Supplies You Are Going To Need For Staining
The supplies that you are going to need for your acacia wood staining are:
Orbital palm sander
Tack cloth
Chemical resistant gloves
Pre-stained wood conditioner
Wood stain
Polyurethane topcoat
A lint-free rag
Foam brush 
A high-quality soft brush
How To Stain Acacia Wood (5 Easy Steps)
If you want a professional-like finish for your wood, then you need to follow all these steps without escaping one. So now let us guide you through the whole process: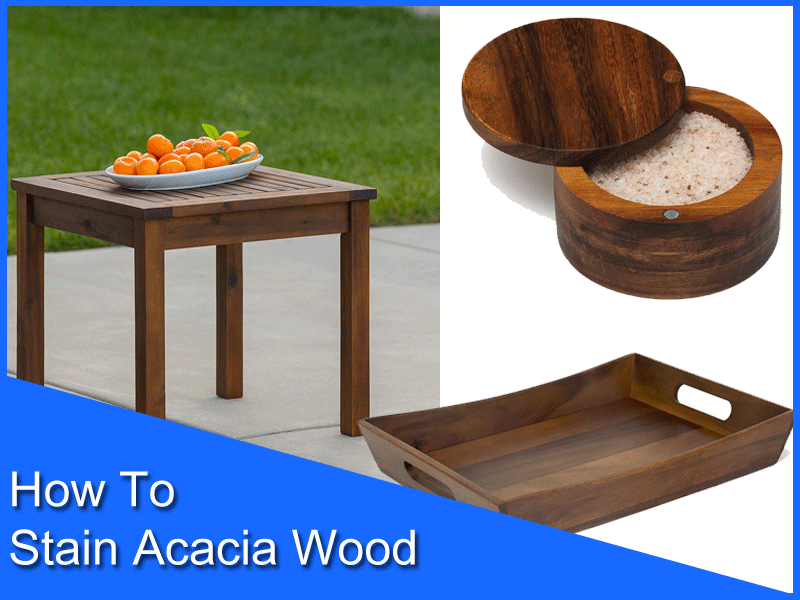 1. Sanding The Wood
The key to a really beautiful finish with wood is in the preparation which is mainly the sanding of the wood. To get a beautiful finish on the Sanding wood also depends on the wood grain which gives the ultimate design pattern. 
In the start, you must start with 80 grit sandpaper which will get all the rough stuff off of the wood, then with 120 or 150 grit, and lastly polish the wood with 220 grit sandpaper
For a nicer finish use a hook and loop sanding disc which will make the sanding more efficient
The most important thing you need to remember is never going against the grain; keep the direction in which you sand parallel with the lines of the glue joins
2. Prepare The Wood
This is another very important step to get a professional like wood staining. For the preparation, you need to remove all the sawdust from your wood after sanding. 
First, use a soft bristle brush or broom and sweep off the sawdust
Then to remove the finer debris use a tack cloth and wipe down the whole surface nicely 
Make sure to wear gloves while working with the lint cloth because it is very sticky which you might want to avoid
To remove all the dust, go with and against the grain while wiping 
3. Use A Wood Conditioner 
After all the dust is removed the next key step is to use a pre-stained wood conditioner. Using a wood conditioner makes a huge difference in the final look of your wood finish. Now to apply wood conditioner 
Use a lint-free rag to apply the wood conditioner
Follow the direction on the grain while applying 
Then let the wood conditioner sit for 5 to 10 minutes before applying your stain
Go slow while applying conditioner and give all the areas nicely coated 
4. Applying Acacia Wood Stain
Picking a good stain color is a staple. We have already discussed the types of stains you can use for sating. You can choose oil-based or water-based stains. Oil-based stains are very common, affordable, and very easy to find. On the other hand, water-based stains are harder to find, expensive but easy to clean, and almost odorless. 
Always wear chemical resistant gloves while working with stains
Make sure to stir the stain in the can well before using it but don't shake it
To protect your work surface use plastic or cardboard or a drop cloth
Use a foam brush to apply a thick coat of the stain over one manageable section of the Outdoor Acacia Wood table at a time
Do not go against the grain
And then immediately wipe it off with a clean rag or lint-free cloth 
While working with oil stain always apply it outside or in a well-ventilated area
If you want a deeper or darker color to apply a second coat after the first coat has dried which takes a couple of hours depending on the temperature and humidity levels
5. Use A Topcoat 
After fully drying the stain on your wood it's time for applying a topcoat. If you are using an oil-based stain, then use an oil-based polyurethane or furniture wax or shellac. There are so many options for the topcoat. This will add extra durability and protect the wood while enhancing its grain of it. 
For applying polyurethane use a soft brush 
Apply it in very light long strokes to avoid any foam brush strokes 
Saturate your brush and start from the middle of woodworking your way to each side and then come back on your stroke 
After doing two strokes come back with a featuring stroke and lightly feature the area
You can apply two to three layers depending on your preference
Let it dry over-night and your wood staging is finally complete
You might also like:
Final Verdict 
If you are keen on getting a factory-like finish you recommend following all our step-by-step guidelines and this is the best way How To Stain Acacia Wood at home.