Ottoman is a central piece in your living room or you can also place it at your doorstep or at the end of your bed. This multi-purpose piece is also known as Otto mania. This is an essential piece in your decor skiing.  
How Big Should An Ottoman Be is used to kick up and rest your feet on top to soothe away fatigue. Its thick padded seat offers a comfortable spot to change shoes, creates extra sitting space at times, and they are versatile and stylish to look at. 
How Big Should An Ottoman Be
If you also want to buy one, then you must also be thinking about How Big Should an Ottoman Be? Don't worry we'll get into that and share all the tips about choosing this piece.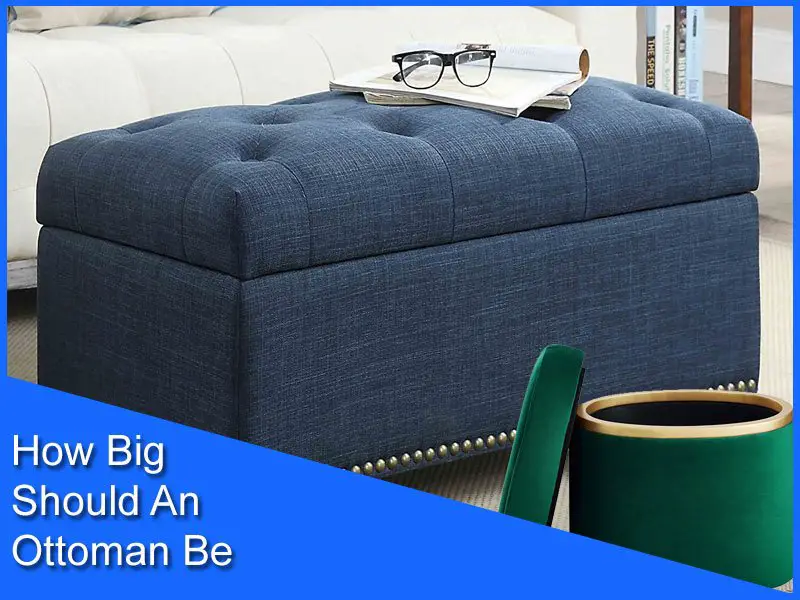 Standard Sizes For Ottoman
If you are wondering what is the standard size for an ottoman, then the answer is none. Meaning there is no specific or standard size for ottoman benches. Its size depends on the furniture you want to pair it with. 
For example, if you want an ottoman for your bedroom and want to pair it with your bed then the length of the ottoman can be similar to the width of your bed or at least one-third of the bed's width. 
If you have a queen-size bed the width will be 60-inches and to pair it with an ottoman the length can be equal or 50 to 55-inches. And the height of that ottoman should be a few inches lower than the bed. 
If you have a king-size bed that will be 76-inches in width, then the ottoman should be about 66 to 70-inches long and 4 to 6-inches lower than the height of the bed. 
In the market, you will find ottomans from 35 to 65-inches long and there are endless shapes that you can choose from. But mostly round, square, and rectangular-shaped ottomans are very popular. 
Ottoman's come in faux fur, leather, foam, different sofa fabric, velvet, wool, sheep fur, etc. Even you can create DIY ottomans at your home from cardboard or wood or anything actually. 
What Do People Use Ottoman's For?
The most important use of an ottoman is storage. You can put blankets, pillows, toys, shoes, mittens, hats, anything you want. 
They also make great little seats. You can use them in your bedroom, the front door of your house where you can sit on it and put your shoes on, in the living room as an additional sitting arrangement, etc. 
The cover from the box ottomans can also be used as a tray just to turn over and you can use it to put your drinks, cups, glasses, cans, etc.
How To Choose Your Ottoman?
Ottoman's are all about versatility and pieces that you can move around and use in different ways. There are so many choices out there for poofs and ottomans. So once you've got the couch, the chairs, the coffee table, some nesting tables, your bed, you might look for some additional sitting. That's when ottomans come into play and there are so many different styles; something for everybody's taste. 
A faux fur round or square-shaped ottoman will look really good on your accent chairs or couch or at the center of your sofa sets. 
A large bench-sized ottoman will look great in your bedroom and you can pair them with your bed. Here leather or velvet ottomans will look nice and shiny and elevate the aesthetics of your bedroom decor. 
You can also place some round-shaped ottomans in front of your fireplace so you can just grab one to enjoy some cozy time there. 
You can also use ottomans as a center table as its flat surface is perfect to put things on top of it. 
Ottomans also look great at the front door where you can use them for sitting or storage. Here square box-shaped ottomans look good. But if you have some more room you can also use bench-shaped leather ottomans. 
You might also like:
Final Verdict
Ottoman's have so much look, so much function, so much form and great styles that you don't have to think about How Big Should an Ottoman Be? In fact, you can just purchase any kind of shaped or colored ottoman and place it anywhere you want.