To install your Ring Alarm system, begin by downloading the Ring app to your smartphone or tablet. Once downloaded, open the app and create an account if you do not already have one. After creating an account, select "Set Up A Device" from the main screen.

Select "Alarm" from the list of devices available for setup and follow on-screen instructions to configure your alarm components (Base Station, Keypad, Motion Detector). Connect all components together using their included cables; plug in both power adapters as well as Ethernet cable into Base Station. Finally mount all of your sensors according to specific placements outlined in user guide and complete setup within mobile app – this includes setting up a monitoring plan with optional 24/7 professional monitoring services through Ring Protect Plus service plan.
Unpack the Ring Alarm Base Station and connect it to a power source: Begin by unpacking the Ring Alarm Base Station and connecting it to a power source, such as an outlet or surge protector
The base station should be placed in an open area for optimal performance
Connect the base station to your Wi-Fi network: Using the Ring app on your smartphone, follow the prompts to add your new system and connect it to your home's Wi-Fi network so that you can monitor and control it remotely from anywhere with internet access
Place sensors around your home: After connecting the base station, begin placing sensors throughout your home in key locations like doorways, windows, drawers, etc
These sensors will detect motion (or lack thereof) within their designated areas of coverage which will trigger alarms if necessary when they sense movement or activity where there shouldn't be any
Update firmware on all devices: Once all of your components are connected, ensure that each device is running up-to-date firmware by checking for updates through the Ring app regularly or manually updating each component as needed via its respective settings menu within the app itself
4 Set up rules for notifications & alerts: With everything connected and updated you'll need to set up rules for how you want notifications & alerts sent out when certain conditions are met along with other details like who receives those alerts based on their user permission level (admin vs guest)
This ensures that only relevant people are informed about what's happening at all times while also allowing users more control over their own security setup without needing someone else managing everything behind them
5 Test & customize settings according to needs: Finally test out different settings configurations until you find one that works best for both detecting potential intrusions but also avoiding false alarms due do innocuous activities like pets moving around inside of a room too much during normal hours etc
Customize these settings further until they meet everyone's desired level of security while maintaining convenience too!
Ring Alarm Home Security System (4K) Full Setup & Installation
Ring Security System Installation near Me
If you're looking to install a home security system, finding the right professionals can make all the difference. That's why it's important to look for 'ring security system installation near me' services that are experienced and reliable; they will be able to provide you with quality work and advice on your specific requirements. A good way to start your search is by asking friends or family members who have recently had their own ring security systems installed – they'll be able to give you recommendations on reputable companies in your area.
Ring Alarm Installation Service
Installing a Ring Alarm system is easier than ever before with the help of their installation service. For an additional fee, you can have a professional technician come to your home and install the system for you, making sure it's connected properly and ready to go. The tech will provide hands-on support as well as answer any questions you may have about setting up your alarm system correctly.

Plus, they'll show you how to use all its features so that you can get the most out of your new security setup.
Ring Security System Packages
Ring offers a range of security system packages to fit all budget and home types. Their basic package includes a base station, keypad, contact sensor and motion detector to provide 24/7 protection. For additional coverage, you can add on extra sensors for doors or windows as well as flood and freeze detectors.

With their Protect Plus plan, you can also get professional monitoring with cellular backup in case the Wi-Fi connection goes down.
How to Install Ring Base Station on Wall
Installing the Ring Base Station is easy and can be done in a few simple steps. First, choose the wall where you want to mount your base station and make sure it's free of any obstructions like wires or pipes. Then use the included mounting hardware to attach it securely onto the wall.

Lastly, plug in the power adapter into an outlet and link your base station with compatible devices on your home network. Now you're ready to enjoy all that comes with having a connected home!
Ring Alarm Keypad
The Ring Alarm Keypad is a handy tool for controlling your home security system. It features an LCD display, illuminated keys and voice prompts to help you easily arm and disarm your system. You can also use the keypad to control all of your connected devices, including lights, door locks and cameras.

The keypad is battery-powered for easy portability and requires no wiring or installation; simply mount it on any wall in your home.
Ring Alarm System Reviews
Ring Alarm System Reviews are overwhelmingly positive, with customers praising its user-friendly app interface and low price point. Customers also appreciate the system's ability to integrate with other products from Ring, such as their doorbell cameras and motion sensors. Most reviews report that the setup process is straightforward and easy to manage, making it a great home security option for those on a tight budget.
Ring Alarm App
The Ring Alarm App is a convenient and powerful mobile application that allows you to control your home security system from anywhere. It gives you the ability to arm and disarm your Ring Alarm, monitor activity in real-time, receive alerts when motion or contact sensors are tripped, and even set up custom automations for lights, locks, thermostats, cameras and more. With the Ring Alarm App you have total peace of mind knowing that your home is safe and secure no matter where you are.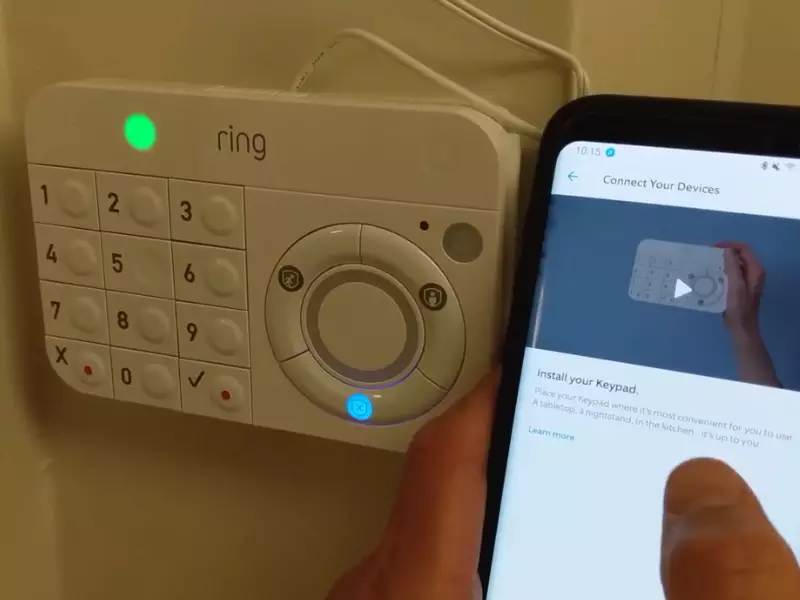 Is Ring Alarm System Easy to Install?
Yes, the Ring alarm system is easy to install. – It comes with a preconfigured base station and contact sensors that allow you to set up your security system quickly and easily. – The installation process requires no tools or wiring, so it can be done in just a few minutes.

– Additionally, the Ring app provides step-by-step instructions to help guide you through the setup process. Overall, anyone can have their home secured with this easy to use DIY security solution.
Do You Need an Electrician to Install the Ring Alarm System?
No, you do not need to hire an electrician to install a Ring alarm system. Installation is relatively easy and straightforward for the average homeowner. The following steps are involved in setting up your Ring Alarm system:

– Unbox and assemble all of the components included with your kit. – Download the App from Google Play or Apple Store on your smartphone or tablet and create an account. – Connect each device to power sources using provided wires, plugs, etc.

– Sync devices together using Bluetooth technology via the app and then mount them in desired locations around your premises (e.g., doors, windows). Once connected, you can activate your Ring Alarm system remotely through the app so that it's ready for use straight away!
How Much Does It Cost to Install a Ring Security System?
The cost of installing a Ring security system will depend on the type and number of devices you need. Generally, it costs: * $60-$200 for one doorbell camera

* $100-$250 for an outdoor security camera * $100-$500 for a full home security system. Professional installation may add another $50-150 to your total cost.
How Long Does It Take to Install Ring Security System?
Installing a Ring security system typically takes between 30 minutes and an hour. The exact time it will take to install your system depends on the specific products you have purchased, as some require more wiring than others. Here are the key steps of installation:

• Mount doorbell or cameras in desired location. • Connect wires (if applicable). • Download Ring app and create an account.

• Monitor and control your camera from the app. Overall, installing a Ring security system is relatively quick compared to other home security systems and can be done with minimal technical knowledge.
Conclusion
Overall, installing a Ring Alarm System is not as difficult as it may seem. After following these simple steps and making sure to purchase the proper equipment, you will find that the setup process is nearly effortless. Once everything has been properly installed and connected to your home's Wi-Fi network, you can rest assured knowing that your home is now safe and secure with one of the most reliable alarm systems on the market today.
{ "@context": "https://schema.org", "@type": "FAQPage", "mainEntity":[{"@type": "Question", "name": "Is Ring Alarm System Easy to Install? ", "acceptedAnswer": { "@type": "Answer", "text": " Yes, the Ring alarm system is easy to install. – It comes with a preconfigured base station and contact sensors that allow you to set up your security system quickly and easily. – The installation process requires no tools or wiring, so it can be done in just a few minutes. – Additionally, the Ring app provides step-by-step instructions to help guide you through the setup process. Overall, anyone can have their home secured with this easy to use DIY security solution." } } ,{"@type": "Question", "name": "Do You Need an Electrician to Install the Ring Alarm System? ", "acceptedAnswer": { "@type": "Answer", "text": " No, you do not need to hire an electrician to install a Ring alarm system. Installation is relatively easy and straightforward for the average homeowner. The following steps are involved in setting up your Ring Alarm system: – Unbox and assemble all of the components included with your kit. – Download the App from Google Play or Apple Store on your smartphone or tablet and create an account. – Connect each device to power sources using provided wires, plugs, etc. – Sync devices together using Bluetooth technology via the app and then mount them in desired locations around your premises (e.g., doors, windows). Once connected, you can activate your Ring Alarm system remotely through the app so that it's ready for use straight away!" } } ,{"@type": "Question", "name": "How Much Does It Cost to Install a Ring Security System? ", "acceptedAnswer": { "@type": "Answer", "text": " The cost of installing a Ring security system will depend on the type and number of devices you need. Generally, it costs: * $60-$200 for one doorbell camera * $100-$250 for an outdoor security camera * $100-$500 for a full home security system. Professional installation may add another $50-150 to your total cost." } } ,{"@type": "Question", "name": "How Long Does It Take to Install Ring Security System? ", "acceptedAnswer": { "@type": "Answer", "text": " Installing a Ring security system typically takes between 30 minutes and an hour. The exact time it will take to install your system depends on the specific products you have purchased, as some require more wiring than others. Here are the key steps of installation: • Mount doorbell or cameras in desired location. • Connect wires (if applicable). • Download Ring app and create an account. • Monitor and control your camera from the app. Overall, installing a Ring security system is relatively quick compared to other home security systems and can be done with minimal technical knowledge." } } ] }