Laminate flooring is a very popular solution to renovate the floors of your house as it gives you an excellent finish and value for money option. But have you ever thought of what is it made of? Or, Does Laminate Flooring Burn? Usually, laminate floors are made of four different layers. These layers determine the quality and look of the overall product.
The first layer is the AC layer, the second one is the decorative paper layer, the third layer is the wood fiber layer and the last one is the backing layer. This means there are four different kinds of wooden layers to make this kind of flooring. 
Does Laminate Flooring Burn
It also means laminate floorings are made of 80% wood. That means though it looks good and glossy on your floors the equation remains how to recur it is, in cases of fire? It does not matter how high quality your laminate floor is, but stills are not fireproof and burn pretty easily. This also means you have to be very careful if you have laminate floors at your home.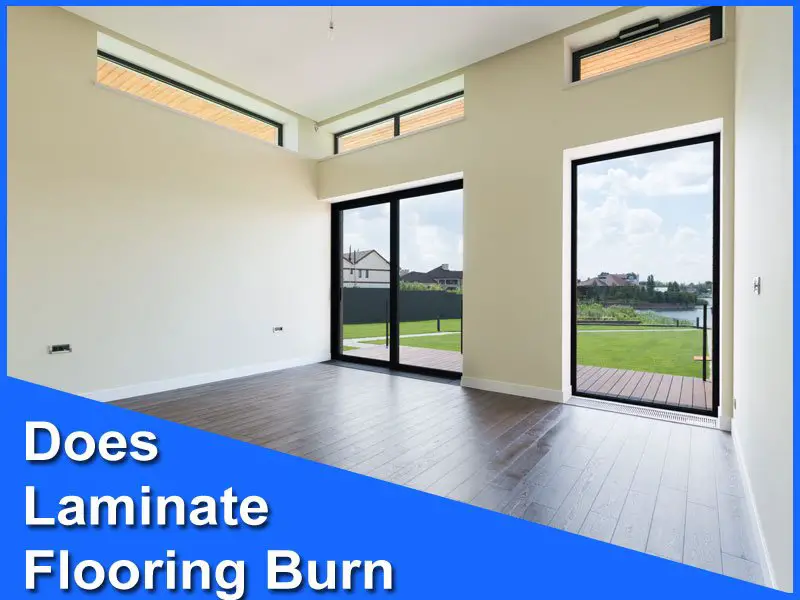 How Long Does It Take Laminate Floors To Burn?
If you really want to check out if the laminate floor can burn or how long it takes to catch fire, then you can test it out with a cigarette. But we are here to test it out for you. 
The research done on laminate floors about how long it takes a fire-safe cigarette to burn the floor gave some shocking results. As it showed that it will probably take about a minute or two to catch fire on your laminate floor by a fire-safe cigarette if you drop one. 
But a regular cigarette can burn this flooring in just about 30 seconds which is mind-boggling. This means laminate floors are equally as dangerous as wood floors in terms of catching fire.
How To Remove A Burn Mark From A Laminate Floor?
As we have already mentioned that laminate flooring is not fire-proof so there is a good chance that you might accidentally burn it at any time. That's why you must know some ways you can recover or remove those burnt marks from your floors to keep their look and shine intact. So here are some possible ways you can use to fix your laminate floors' burnt marks described down below.
Light Scrubbing With Sandpaper
If you have a light burnt mark on your laminate flooring the easier fix to remove that burnt mark is by lightly rubbing on that bunt mark with sandpaper. You have to be very careful not to damage the shine or the floor while rubbing. 
Later on to get the shine back onto the laminate use some kind of oil or wood shinning oil to polish that area. Now take some oil onto a cotton ball and gently apply it to the ribbed area. Let that oil sit for some time so the floor soaks off the oil and keeps on shining. 
Use A Sander 
So here you have to start by taking the blemish down layer by layer. To cut through the finish use a random orbital sander with 150 grit. Here you don't want to sand too deep in one spot. You have to feather it out. So the deeper the damage the wider you should sand around it. 
Now switch to 180 grid sandpaper grind gently. Then switch over to a sanding block with some 220 on it and sand with the grain to fine-tune it. Now clean the dusty area with a microfiber cloth to remove the particles.
Now to polish the floor use a water-based polyurethane with a semi-gloss finish. Now apply this by using a 2-inch nice bristle brush and of course go with the grain. Focus on the middle and feature it on the edges. 
Let this dry for an hour before applying the next coat. Now repeat the previous process; sand with 220 and remove dust with the cloth. Now apply the second and the last coat to get the final finishing. This way you can also take out some deep burnt marks from your laminate floors. 
Re-apply The Laminate
If you have a deep burnt mark that can't be removed through polishing, then you might need to cut down the laminate from that specific area and measure how much you need new laminate. 
After measuring cut down that exact same piece from the new laminate to match and glue it to the floor with some wood glue. Make sure this is done carefully and seamlessly as much as possible. 
You might also like
Final Verdict 
Now you know how all about laminate floor burn removal and we hope we've answered your questions related to Does Laminate Flooring Burn. But if you're still left with some questions we did not cover here please do ask us and we will definitely try to answer that for you. 
Frequently Asked Questions (FAQ)
Are Laminate Floors Flammable?
Are laminate floors flammable? This is a question that many people have when they are considering this type of flooring for their home. Laminate floors are made from a type of plastic and they are not flammable. However, they can be damaged by fire if the flames are high enough.
How Toxic Are Laminate Floors?
Laminate floors are a type of synthetic flooring that is made to look like wood floors. They are made of multiple layers of synthetic materials that are bonded together under high pressure. Laminate floors are a popular choice for many homeowners because they are durable and easy to care for. However, some people are concerned about the safety of laminate floors because of the chemicals that are used in their manufacture.
There are a few different chemicals that are used in the manufacture of laminate floors. The most common of these are formaldehyde and melamine. Formaldehyde is a known carcinogen, and melamine has been linked to kidney damage.
However, the levels of these chemicals that are present in laminate floors are very low. In fact, the levels of formaldehyde in laminate floors are lower than the levels that are found in many homes.
The bottom line is that laminate floors are safe for most people. However, if you are concerned about the chemicals that are used in their manufacture, you can look for floors that are made with low-emitting materials.
How To Dispose Of Laminate Flooring
Laminate flooring is a type of flooring that is made from a composite material. It is very durable and easy to care for. However, when it comes to disposing of laminate flooring, there are a few things you need to keep in mind.
First, you need to make sure that you remove all of the nails and screws from the flooring. This will ensure that the flooring can be recycled. Next, you need to cut the flooring into smaller pieces. This will make it easier to transport and recycle.
Once the flooring is cut into smaller pieces, you can take it to a local recycling center. They will be able to recycle the material and keep it out of the landfill.
If you cannot find a local recycling center that accepts laminate flooring, you can always donate it to a local thrift store. They will be able to sell it and use the proceeds to help those in need.
Disposing of laminate flooring is easy if you follow these simple steps. By recycling or donating the flooring, you can help reduce the amount of waste that goes into the landfill each year.
How To Dispose Of Vinyl Flooring
If you're looking to upgrade your flooring, you may be wondering what to do with your old vinyl flooring. Here are a few options for disposing of vinyl flooring:
Recycle it
Most vinyl flooring can be recycled. Check with your local recycling center to see if they accept vinyl flooring.
Donate it
If your vinyl flooring is in good condition, you may be able to donate it to a local thrift store or Habitat for Humanity ReStore.
Throw it in the trash
If you can't recycle or donate your vinyl flooring, you can throw it in the trash. However, check with your local solid waste district to see if there are any restrictions on throwing away vinyl flooring.