As we all know that natural ingredients are gentle on your skin and at the same time, they can clean your skin pores deeply. The cleansing masks that we are going o share in this article can be used regularly and you'll get surely get smoother flawless skin. 
How To Clean Face At Home Naturally | 6 Natural Tips
Here we are going to discuss some of the best natural cleansing masks that only need a few ingredients and about some ingredients which can be used directly as a cleanser on your face. So if you are interested to know these secret recipes and ingredients then keep on reading down below ou how to clean face at home naturally.
Natural Cleansing Mask 1 
This natural cleansing mask can be made at home as an effective face cleanser using natural kitchen ingredients. You'll need:
Kaolin clay
Gram flour
Charcoal powder
Turmeric powder
In a clean bowl add 2 tbsp of kaolin clay, 1 tbsp of gram flour, ½ tsp of charcoal powder, and ½ tsp of turmeric powder. Now mix all the ingredients with the required amount of water. If honey suits you can add that too in your cleansing mixture. 
Apply it on your face, rub gently, and then wash it off after 5 minutes. You can use this mask 3 to 4 times a week for better results.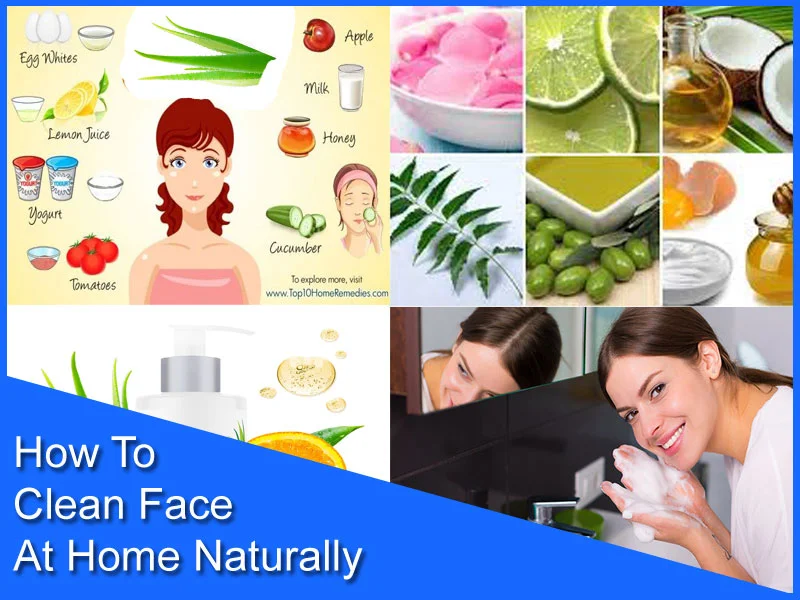 Natural Cleansing Mask 2
For this natural cleansing mask recipe, you'll need just need a few simple ingredients and this mask is for someone with sensitive skin.
Warm coconut oil
Honey
Baking soda
Lavender essential oil
For this mask take a bowl and add in 4 tablespoons of warm coconut oil. You want the oil to be warm so the ingredients can mix better. Now add 2 tbsp of raw honey and one tbsp of baking soda. 
Now mix everything nicely so there are no lumps. Noe at the end add 4 drops of lavender essential oil and mix again. Lavender oil is good for anti-aging and skin imperfection. 
Now get your face wet before using this mask and take a spoonful in the palm of your hand. Now massage this gently into your skin and let it sit for 2 to 3 minutes so it gets soaked into your skin well. Use this mask twice a week.
Natural Cleansing Mask 3
This is an exfoliating facial cleansing mask. To make this mask you'll need 
Solubilizer
Fragrance oil/ essential oil
Xantham gum 
Vegetable glycerin
Jojoba beads
A fresh container bottom 
Now this mask has three steps of making it. the first step is to take a bowl and take solubilizer and a few drops of essential oils and mix them well. Secondly. Tale another fresh container to mix your xantham gum and vegetable glycerin and mix separately so there are no clubs in the mixture. 
Now add this glycerin mixture into your solubilizer mixture. Here you need to be careful not to create any bubbles into the mixture so incorporate everything into a circular motion. At this point, your mixture will be thicker than before but don't panic. 
In the last step, it's time to add the jojoba beads which give a texture to this mask so it will exfoliate your skin and remove those dead skin. So add your jojoba beads into your cleansing mixture and use a folding motion to mix everything. 
When your mixture is nice and thick and looks clean store it into a container for later use. This mask can be used as a cleanser, exfoliator, and face wash. 
Natural Cleansing Mask 4
Raw milk- 2 tsp 
Rosewater- 2 tsp
Cotton ball
This mask is really easy to use and so healthy that you can use it almost every day and night and even after taking off your makeup to add a healthy glow and hydration to your skin. So take a small bowl and all the ingredients according to the measurement and mix. You can use a cotton ball or pad to apply this to your face. Leave the mask on for 10 minutes and then wash with lukewarm water. 
Natural Cleansing Mask 5
If you have problematic skin like acne or eczema honey can be very beneficial. Raw honey contains anti-bacterial and healing properties. It's anti-inflammatory; it helps clean out the pores and retain moisture. 
So this is always the first and best option to use as a cleanser. You can add honey with other masks or just use it by itself. As it does not have any side effects you can use it almost every day as a natural cleanser. Just make sure you're using raw unfiltered honey because this will ensure you're getting all the antioxidants and nutrients it has. Leave it on your skin for 10 to 15 minutes and then wash off. It also reduces oil buildup on your skin.
Natural Cleansing Mask 6
Another single ingredient that you can use as a natural cleanser is oatmeal. It contains chemicals such as sapiens that are known as a cleansing property. It's also anti-inflammatory it fully exfoliates the skin and locks in moisture and leaves the skin feeling incredibly soft.
This is perfect for people with a combination to dry skin. It's also a great cleanser to use if you have acne or oily skin. So in reality anybody can benefit from it. So to use this take some into a blender and blend until powdered.  Then add some water to make it liquid and apply it onto your skin. Leave it until dry then clean your face with warm water. 
You might also like
Final Verdict
So with all those lists of ingredients and mask-making techniques, we hope you will give some of them a try according to your need and will let us know if you liked our article on how to clean face at home naturally.