Cooking in a vintage Desco ware pan or pot is like satisfaction and makes your cooking more fun. But how many can you say that you haven't burned your Desco Ware while you were cooking your dinner or your fancy breakfast?
We all know that the old your pan is the more it is likely to get burnt during cooking. And that is something that everyone wants to forget about. Because cleaning this kind of pan always seems impossible and time-consuming.
How To Clean Vintage Descoware
But that does not mean we'll just through them away. No! You just need a perfect way to clean your vintage pans with utmost perfection and satisfaction. If you also think like us then here we've described the three best hacks of How To Clean Vintage Descoware at home.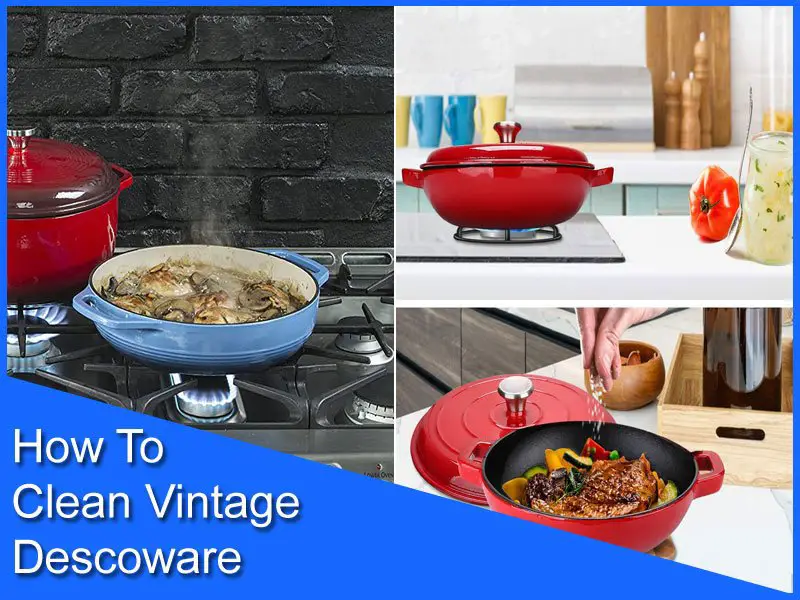 Cleaning Hack 1
This cleaning hack is so easy and simple that you can do it 3 or 4 times a year or whenever you need to. So How To Clean Vintage Descoware follow the steps down below:
Step 1
The first thing that you have to do is remove any grease or food particles from the inside of Desco ware. Do that in the old regular fashioned way with dish soap and water. Now here you have to use warm water which will help dissolve any food particles stuck on the Desco ware. 
If you find any food particle that is hard to remove you can add a little bit of water and put it on the stove for a few minutes and that's going to help you remove those hard stuck on particles.
Step 2
Now take your double-sided sponge and using the green side gently scrub all around. Make sure not to use steel sponges which can seriously damage your pot. Then move on to the spongy side. When you're done clean it with some water.
Step 3
Now place your pot on a flat surface and fill it up with water. Now it's time to add bleach per two-quarters of water. For example, for an eight-quart pot add 4 tsp or for a 4 quart add 2 tsp. When you add bleach to the water do not touch it. Now leave it covered for 24 hours or overnight. 
Step 4
When it is the next day dump the water and clean your pot with soap and water like the first time and rinse it with water. When you are done with cleaning you'll see all the stains are gone and your pot is clean as new.
Cleaning Hack 2
When you're done cooking in your vintage Desco ware wait until the pan is cool enough to handle. Though this kind of pot is dishwasher safe, we recommend using it by hand. Now use a generous amount of baking soda and dish soap and start rubbing your pan with a sponge. When you are done pour some vinegar directly on top.
Leave the pan for a few hours. Then rinse off the pan and clean it with dish soap again. If you are not satisfied with the cleaning repeat the process to clean fully. 
Cleaning Hack 3
This cleaning hack is not that traditional that you are used to following. For this hack, you'll need
Dermal versa little polisher
Blur pads
WD-40 pot and pan cleaner spray
Whitening toothpaste 
Sugar 
The first thing that you need to do is, put your pan on the stove for a little bit to get it warm, not hot. So when you put your hand above it you can feel it. The objective to that is to open the ports on the metal in this case the vintage Descoware. This methodology also works for enamel pans, frying pans, stainless steel, and copper pans. 
Now get your WD-40 spray ready; shake it up and turn off the heat. Take your pan in your hand and spray a decent amount on the pan all over the area. Now let the pan sit for at least 45 minutes to an hour depending on how bad your stains are. 
After letting it soak put the pan into your sink just to avoid any splattering. Now take your blue scrubbing pad and start scrubbing it the burning stains will start to come off. Nevertheless, if the spots are too bad you can apply another coat of your spray and scrub again. 
Then switch to your dermal versa polisher and start polishing again. In a matter of a few seconds the stains will come off from the pan and you'll see a visible change. Meaning you can continue to pray and work with the polisher till all the stains are gone. Apply very little pressure to avoid scratching the pan. 
Now wipe your pan clean with a paper towel to see your progress. If anything is left repeat the same process. When you are done polishing take a little bit of toothpaste and sugar into the pan and use your polisher to polish the pan once again. This will add a little shine to your pan. 
Lastly, rinse your pan with water and towel it dry. Store this kind of pan nice and intact for avoiding damage. 
You might also like
Final Verdict
With these three best hacks of pot and pan cleaning, you can apply them for other kinds of pans and pots too. So we hope finally you've found your solution of How To Clean Vintage Descoware at home with household items.