Daybeds are really great addition to your home and many people like them for their multi-functionality, they can be placed in any room at your house. 
If you do not have tons of space in your room and you need to multi-task in your room, then you should definitely buy a daybed. And if you already have a daybed and are thinking Can A Daybed Be Used as A Couch then you are in the right place to get some good old solutions.  
Daybeds are really ergonomic especially if you do not have much space in your room or apartment or condos. 
Can A Daybed Be Used as A Couch
Daybeds come in different styles. Some have storage underneath, some are foldable, some have double beds underneath, some are sectional, etc. Some have sides and some beds are just totally plain. 
These beds are so versatile that you can decorate them as a couch, sofa, or any other way. Usually, these beds are seen in the guest room, which is being several times a year. So there you Can A Daybed Be Used as A Couch or sofa in times when the beds are not needed.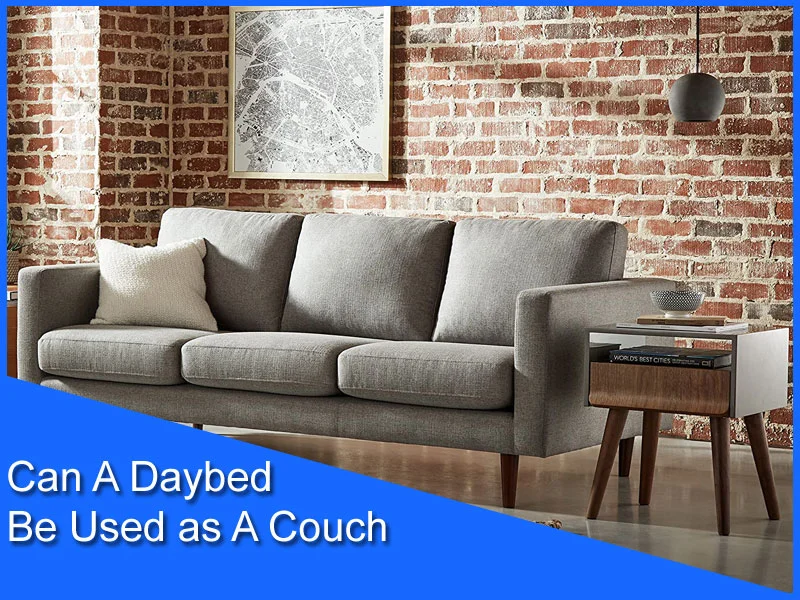 Styling A Daybed Like A Sofa
Lots of people have daybeds in their homes. They are a great alternative to a futon or just a normal single bed. People have them in their guest rooms, sometimes in their offices, in their playrooms, and in family rooms. So more often than not if it's a daybeds couch rather than a bed and with a few easy styling tips you can make your daybed look more like a sofa. 
Start with a neutral, solid base. Like a solid baby blue or white fitted sheet. Add in one large bed pillow and two solid color toss pillows on each side of the daybed. 
Now add texture with a sofa blanket. A faux fur pillow and toss rug might add interest. Add large patterned pillows as anchors on each end. Add a bolster with whimsy!
For finishing touches to make it a cozier feeling you might add side tables, a few pot plants, some stuffed toys, etc. You can add or change all these things as per your liking to match with the room decor. 
Couch Alternatives
If you want something to work as a couch or sofa; but just don't have the place or the funds; don't despair!  There are some terrific choices you can find for the standard three-seater sofa.
Alternative 1
If you need sleeping and gathering space; putting a day bed in an entertainment room is a great option. A solid mattress that is designed to serve as a firm seat can be purchased at an upholstery shop and cut to fit the frame if you don't have the cash for a twin mattress. 
In addition, you can create cushions to serve as a back for your daybed sofa that can contain items you'll need for sleeping. Pillow shames can help to hold pillows or tightly folded bedding so your daybed couch will immediately convert from sofa to bed. 
Alternative 2
The modern bean bag seating option has advanced. Consider the moon-pod portable beanbag chair. An adult-sized moon-pod is an excellent option for flexible seating in any room. 
Not only is this piece economic but also you don't have to manage it as a floor cushion and worry that older visitors will struggle to find a comfortable place to sit.
Alternative 3
A Banquette is commonly a seating that has a storage bench under it. These are pretty commonly found in dining rooms or built-in under-bay windows. However, if you really need a cheap couch and also need storage a Banquette can be really helpful.  
Alternative 4
You can build many household items including a cheap sofa out of pallets. You need to seal the lumber and seal it as some old lumber can outgas.   
Just cut the pallet according to your desired dimension, smooth the rough edges, seal the wood to turn it into a couch alternative. 
You might also like:
Final Verdict
There are many other things that can be your couch alternatives if you don't have a daybed. But mostly daybeds make the best couch alternative for sure. So just don't worry about, Can A Daybed Be Used as A Couch, you have an interest in DIY projects.