Kitchen sinks are the most used part of everyone's kitchen undoubtedly. Even if you don't cook you might need t wash your dishes. That's why we news to be extra cautious about findings and install a sink that will last long, be easy maintenance, and be higher in quality. 
If you are thinking What are Kitchen Sinks Made of then we would say the options are endless. There are many options when it comes to selecting sink material.
Such as stainless sleet, copper, cast iron, fire clay, composite stone, wood, glass, enamel, etc. so don't get confused by the names or the looks of a kitchen sink immediately. 
What are Kitchen Sinks Made of?
But it is important to know the overall details of these kitchen sink materials and we are here to provide that for you.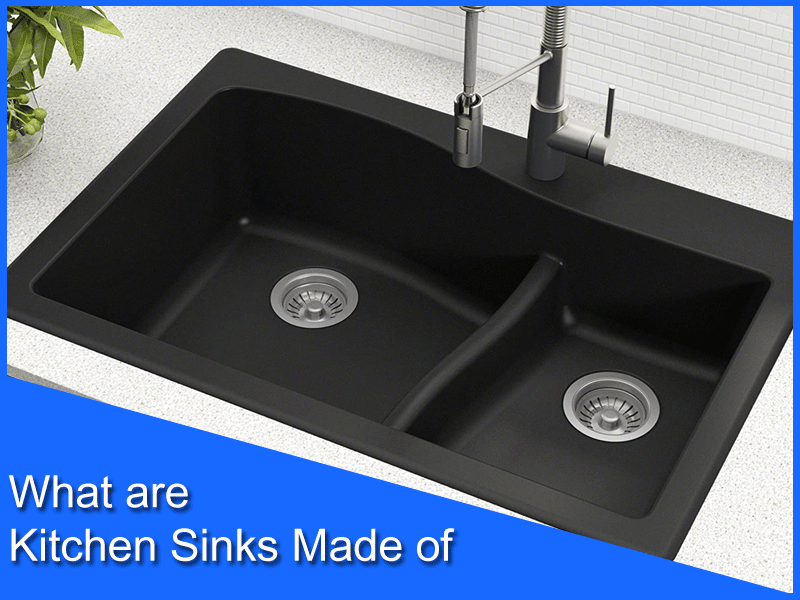 Stainless steel Sinks
Stainless steel is the most famous, most used, and best-selling material in terms of the kitchen sink. There is undoubtedly no comparison between stainless steel sinks' durability, cost efficiency, and sharp-looking designs.
It comes in single, double, and triple bowls with a high weight caring capacity. They are heat resistant and peel or crack-free. 
Copper Sinks
Copper sinks are the most fancy-looking sinks than any other material. When you are going to start working with a copper sink in your kitchen is going to shine bright. But after some time it will start turning green around the joint areas and water spots.
So you make it spotless you'll need specific tools, products, and cleaning methods, which can be a lot to take in. 
Cast iron sinks
Cast iron is another popular choice for kitchen sinks. They look classy and effortless at times. Usually, this kind of sink has a thick layer of porcelain. As it's a layered material sink, it can crack, chip, or fade after using it for a few years.   
Fire Clay Sinks
Fire clay is also a perfect choice for kitchen sink materials. They are also the same material as cast iron but all the way through. Fire clay kitchen sinks are baked for a much higher than cast-iron. So they are more strong, and won't chip or rust. 
Composite Stone Sinks
Now the composite stone is like another solid material all the way through. It is durable enough to be shaped like a kitchen sink which means constant use. This kind of sink can feel a bit plasticky to your hand as they are a man-made material. These sinks are lightweight and have a mat finish.  
Wood Sinks
Wood sinks are also known as apron-front sinks and mostly you'll see them in the farmhouse kitchens. These sinks are so versatile and come in unique shapes you never could have imagined. They are strong and have a larger weight capacity. 
Tempered Glass Sinks
These sinks are mostly used for the bathrooms, but you can also use them as kitchen sinks. They are easy to clean and scratch-proof. But you need to carefully handle them while using this kind of sink in your kitchen. As the material is glass it is not heat resistant and if put under too much pressure can crack or break. 
Enamel Sinks
There is actually no sink completely made out of enamel rater cast-iron or stainless steel sinks having an upper coat of enamel. This enamel makes the sink thick. These sinks tend t get dull quickly and may easily crack or bend. see now What are Kitchen Sinks Made of different types sinks here.
But if you have a question regarding why not aluminum, then we would say absolutely a no-no for they are not a kitchen sink material as they are bendable, cracks easily, stains, not scratch-proof, etc. All these names we mentioned here are the materials of What are Kitchen Sinks Made of.
You might also like
Final Verdict
There are many different materials that kitchen sinks can be made out of. What are Kitchen Sinks Made of, the most common sink materials are stainless steel, enameled cast iron, solid surface, composite stone, and quartz? Stainless steel sinks are the most popular type of sink, as they are very durable and easy to clean. Enameled cast iron sinks are also popular, as they are also very durable and have a wide variety of colors to choose from. Solid surface sinks are a newer type of sink that is made from a variety of materials, including acrylic, stone, and quartz. Composite stone sinks are made from a mixture of different materials, including granite, quartz, and marble.