Do you sometimes find that when using wonderful whipped cream for a filling or a frosting it doesn't end up fluffy and light and airy but instead turns out deflated and even starts to wheat on you as you store it in the refrigerator. 
Many people follow their recipes while making whipped cream but if you want everything to go right and make the most perfect one then follow our How To Measure Whipped Cream Most Perfectly At Home and the step-by-step process.  
Well if you just want to enjoy the taste of whipped cream in your fruit bowl you can just buy whipped cream can from the store in which you get less cream and more air. But if you are like a baker then you need to know the perfect measurements for making the perfect whipped cream. 
The Accurate How To Measure Whipped Cream Most Perfectly At Home (3 Easy Steps)
To help you make the perfect whipped cream we are here with all the easy tips and tricks in keeping your whipped cream nice and stable and weep-free. So the first and most important thing in making whipped cream is to get the measurements right and accurate. So the ingredients are:
The first ingredient that you need is of course 2 cups of whipping cream. Here you want to make sure that the cream you're using is the highest fat content possible and heavy whipping cream is 33 to 35 percent fat. So high fat is great for whipped cream.
For a little bit of sweetener use three tablespoons of granulated sugar for two cups of heavy whipping cream. This is going to depend on your recipe how sweet you want your cream. You might want more sugar you might want less. 
This measurement is slightly sweet as a topping for a pie. One thing is testing out different methods of stabilizing the whipped cream, a lot of sources say to use confectioner sugar and confectioner sugar has a little bit of cornstarch an anti-caking ingredient that keeps it nice and lumps free, and most people say that the cornstarch in there helps to stabilize the whipped cream but in testing it out it has no effect for us. 
The real star player here in keeping this whipped cream nice and stable is gelatin and here you need half a teaspoon of powdered gelatin. I mean this is something that you can get in the grocery store. You don't need to go to a specialty store for this. 
For a little bit of flavoring add one teaspoon of vanilla extract and you can flavor this in any way that you'd like. Vanilla's kind of a classic addition to whipped cream.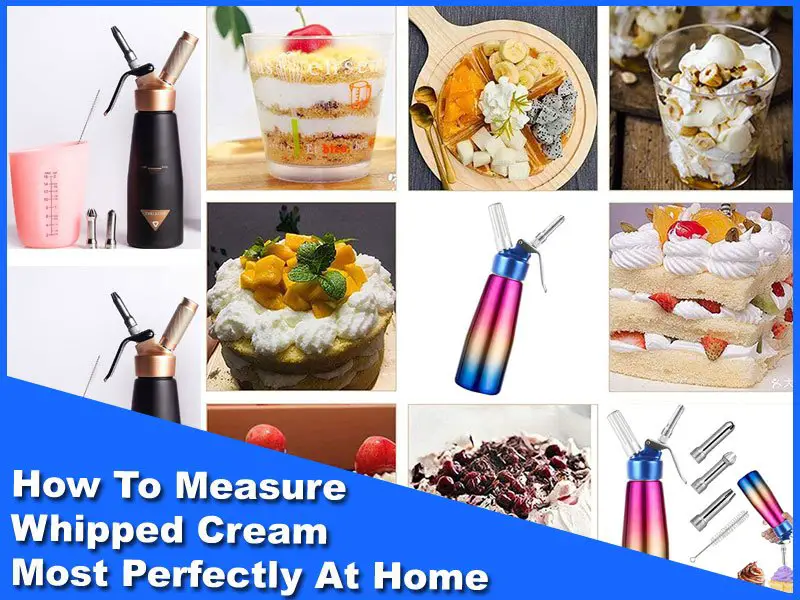 The Whipped Cream Making Process 
To start off one thing that's really super important in making whipped cream at home whether you're stabilizing it or not is in making sure that your ingredients are chilled and also your equipment is chilled. 
So make your whipped cream you'll need a stand mixer with a chilled bowl that's straight from the freezer and attach the whisk attachment which is as well really cold to help create a nice skeleton. 
The reason for calling the whipped cream the skeleton is, the little bubbles that form and if they're nice and cold and rigid. You'll have goo volume and build-up. But if they're warm, they're not going to be stable for very long and won't get as much lightness and volume out of them. 
Step 1
Make sure that your equipment and your ingredients are cold. Now add your whipping cream to the bowl and start the mixer at a lower speed. Now, whenever you're making whipped cream or meringue it's best to start on a lower speed to encourage smaller bubbles to form and then build up the speed and continue to build up those small bubbles creating something that's more stable.
Step 2 
While we're mixing this at low speed add your granulated sugar and gelatin. But don't add the gelatine directly. First, take a tablespoon of cold water in a small container and sprinkle the gelatin over the top of the water this is going to sit on the bottom as it's called but for about two to three minutes. 
Now what it does is, it helps the gelatin gets saturated with water, and then ultimately you're going to melt this down in the microwave. You could do it on the stovetop if you want to; just until the gelatin dissolves and it's a nice liquid. You don't want it too hot.
When using gelatin increase the speed of your mixer from low to medium. Here you want the sugar and the heavy cream to mix until you get nice soft peaks. So you're going to go the full way in terms of volume development before adding gelatin. Now slowly drizzle in the gelatin mixture at room temperature. 
Step 3
Now it's time to add some vanilla extract. When you're done mixing take a rubber spatula fold the whipped cream together. At this point, you'll get a nice stiff peak. It will not turn into butter. You want to make sure that you stop before the mixture looks clumpy and curdled, but will be nice and silken and delicious. 
You might also like
Final Verdict
You can find a lot of other recipes on the internet but we can assure you that we've tried it all and so far this concoction has the perfect outcome. So we hope you will try how to measure whipped cream most perfectly at home and in the making process.