When it comes to kitchen interior design commonly people look to traditional surfaces like stone, concrete, and wood. Unlike traditional materials utilizing glass allows for a functional work of art and a conversation piece in the heart of any home. 
With its streak streamlined appearance glass pairs well with just about any material. Multiple designs or styles can be achieved from traditional to contemporary, industrial to modern. The glass recycling process allows you the ability to customize the size, shape, thickness, glass color, texture, edge, and finish. 
So if you know How To Make Recycled Glass Countertops you can try to attempt making one for your kitchen or you can also search for a company that can make a brand new customized recycled glass countertop. 
What Kind Of Glasses Do You Need For Countertop Recycling?
The goal of recycling waste products like broken glass, old bottles, shattered windows, or anything of that manner requires taking a waste product and transforming it into an artistic building material. So the eco-friendliest is to process recycled glass into stunning countertops that are strong and durable.
People think going green is always a particularly expensive endeavor; oftentimes reusing what's already out there refashioning it or repurposing it in some way is a very cost-effective solution and you're salvaging and reducing the consumption of material. 
So to make a recycled glass countertop you can use almost whatever you can find. For example, green wine bottles, amber beer bottles, cobalt blue water bottles, etc. you can also take building demolition glass, waste glass, tinted window glass, shower door glass, storefront safety glass, that sort of things can be turned into a variety of gorgeous countertop. 
You can also take glasses from some really interesting places like art glass, old stained glass, traffic light glass, etc. 
Type of Countertop Support
There are many types of countertop support available, depending on the material of your countertop and the weight it will be supporting. For example, a laminate countertop will require different support than a granite countertop.
Laminate countertops are usually supported by L-brackets or Z-brackets, which are mounted to the underside of the countertop. The brackets are then screwed into the wall or cabinet. For a freestanding countertop, L-brackets can also be used to support the front edge.
Granite and other heavy countertops will require more support than laminate. For these, you will need to use support posts or corbels. Support posts are mounted to the floor and ceiling, with the countertop resting on top. Corbels are mounted underneath the countertop and can be either decorative or functional.
When choosing countertop support, be sure to take into account the weight of the countertop and the type of material it is made from. With the proper support, your countertop will be both beautiful and functional for many years to come.
How To Make Recycled Glass Countertops
If you're looking for a unique and earth-friendly countertop option, recycled glass countertops are a great choice. Made from recycled glass, these countertops are not only beautiful but also eco-friendly. Here's how to make your own recycled glass countertops: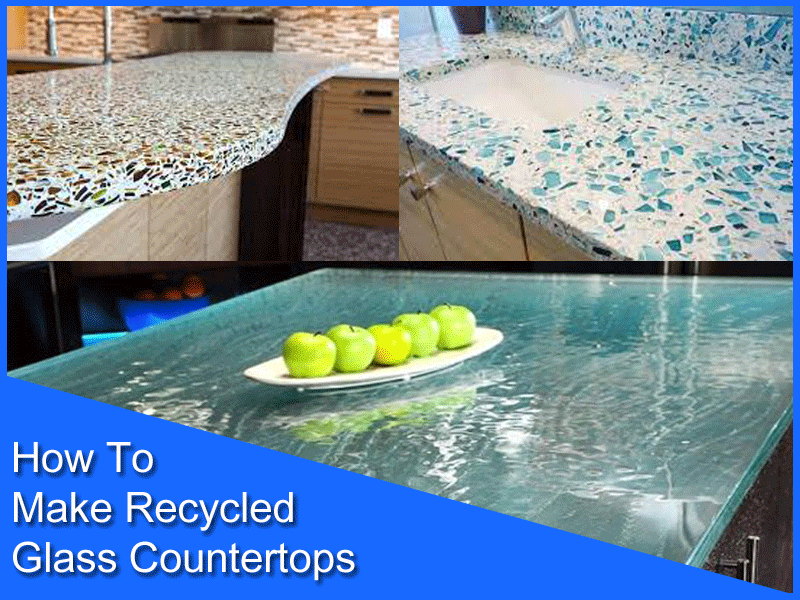 Collect enough recycled glass to cover your countertop. You can find recycled glass at many home improvement and craft stores.
Spread a layer of mortar on your countertop.
Lay the recycled glass pieces on the mortar, pressing them down slightly.
Spread another layer of mortar over the glass.
Use a wet sponge to smooth out the mortar.
Allow the mortar to dry completely.
Apply a sealer to the countertop to protect it.
Now you have your own beautiful and eco-friendly recycled glass countertop!
10 Recycled Glass Countertops
There are many benefits to using recycled glass countertops in your home. They are eco-friendly, durable, and beautiful. Here are 10 recycled glass countertops that will add style and function to your kitchen or bathroom.
Eco-friendly: Recycled glass countertops are made from recycled glass, which is good for the environment.
Durable: Recycled glass is very strong and durable, so it will last a long time.
Easy to clean: Recycled glass is non-porous, so it is easy to clean and resistant to stains.
Heat resistant: Recycled glass can withstand high temperatures, so it is ideal for use in the kitchen.
Acid-resistant: Recycled glass is also resistant to acids, so it is ideal for use in the bathroom.
UV resistant: Recycled glass is resistant to UV rays, so it will not fade over time.
Scratch-resistant: Recycled glass is very scratch resistant, so it will keep its beautiful finish for many years.
Stylish: Recycled glass comes in many colors and styles, so you can find the perfect one to match your decor.
Affordable: Recycled glass is very affordable, so it is a great option for those on a budget.
Easy to install: Recycled glass countertops are easy to install, so you can do it yourself.
Conclusion
If you are interested in creating something unique for your home, then consider recycled glass countertops. These countertops can provide your kitchen or bathroom with a one-of-a-kind look that is sure to impress. Best of all, they are environmentally friendly and can help you reduce your carbon footprint. Here is how you can make your own recycled glass countertops.
Frequently Asked Questions (FAQ)
How are recycled glass countertops made?
Recycled glass countertops are made by crushing recycled glass and combining it with a binding agent to form a solid surface.
What Are The Benefits Of Recycled Glass Countertops?
Some of the benefits of recycled glass countertops include being eco-friendly, durable, heat resistant, and scratch-resistant.
Are Our Recycled Glass Countertops Expensive?
The cost of recycled glass countertops will vary depending on the brand, style, and design you choose. However, they are generally more expensive than other countertop materials.
How Do I Care For My Recycled Glass Countertop?
To keep your recycled glass countertop looking its best, be sure to wipe up spills immediately and avoid using harsh chemicals or cleaners.
Can Recycled Glass Countertops Be Installed Diy?
It is possible to install recycled glass countertops as a DIY project, but it is recommended that you hire a professional for the best results.