Are you struggling to buy a computer, so that you can play your ps4? If you are then this article can actually help with that problem. Even if you don't have a computer you can still connect your ps4 with a TV or laptop or Mac with or without the remote controller. Don't be surprised because that is very much possible with just a few setups and some extra input and output devices. 
How To connect ps4 to the laptop using the HDMI port on the laptop that has an outpost. And the HDMI port on the ps4 to the laptop computer. The laptop must have a video input cord with an HDMI input cord. This way the HDMI port will only display content on the ps4, but only on the outer laptop screen. 
But there are other more effective ways that you can use to connect your ps4 with your laptop screen that you will only know about if you read through the whole article down below. 
How To Connect A Ps4 To A Laptop Screen
When you have your PlayStation 4 next to your computer it's convenient to hook up your console to your setup for quick and easy gaming. However, if you own something like a Mac or a laptop, you may need to do a little more leg work to play games on your screen. 
The technique that we'll be discussing here to connect a PS4 to a laptop can be used for any laptop or Macbook. Let's see how this process works: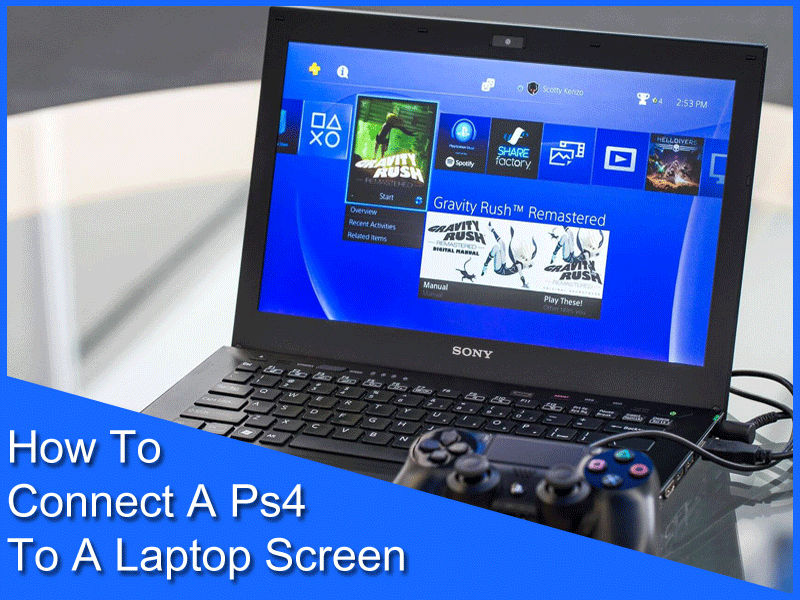 Step 1
If you use a standard computer and monitor setup that requires HDMI connections plugging in a ps4, is pretty easy and most people do it. If your monitor has two HDMI ports plug your ps4 into the second port and switch between the inputs. On the other hand, if your monitor has only an HDMI port you can use an HDMI splitter to toggle between your computer and the console. 
Step 2
Your laptop or your Mac has an HDMI port, so that solves that. Unfortunately, the HDMI ports of a  computer are pretty different from those that come with a monitor. Monitor HDMI ports are designed for receiving data because a monitor's prior job is to display information. Your laptop or Mac HDMI ports, however, are designed to send data instead as a result if you plugged in your ps4 HDMI cable into the HDMI port nothing will happen. 
Step 3
That happens because the laptop wants to send data down to the HDMI port directly. But your ps4 also needs to transmit data down the cable. Fortunately, all is not lost. If you want to play ps4 games on a laptop, you have to use ps4 remote play. Ps4 remote play is an app that you can set up for windows or app store, Mac android, or even iOS. It lets you connect your ps4 remotely as long as you have a fast internet connection. 
Step 4
When you first use it, it's eerie to see your ps4 turn on by itself, however once running you can see and interact with your ps4 screen from any device. To use ps4 remote controller on a laptop or Mac, you have to download it from the official website. While you wait, hint around for a USB cable and a ps4 controller, then plug them into your system. While you can use your keyboard to navigate your ps4 you're limited to only the aro own keys to move. Enter to confirm things and escape to go back. 
Step 5
Once the app is downloaded, boot it up and log in with your ps4 credentials. Then click start to search for your ps4 if the app finds it it will turn on your console and show you a feed. If you have done it properly your should beep and boot up by yourself. Now you can use your ps4 controller to play games or use the keyboard to perform basic menus navigation. 
Step 6
Once you're done playing you may want to click the cross at the top right of the window. However, if you try to do this, all will do is just close the remote link with the console. The console itself will continue to run. To turn off the ps4, press the PlayStation button in the middle and select the power option from the menu. 
Step 7
With a ps4 controller, this is easy. It's a lustrous button that will be in the middle with a PlayStation logo over it. Without a controller, you can fidget the mouse over the window to make the bottom bar appear. Then click on the button in middle with a logo on it. 
How To Connect Ps4 To The Laptop Screen With HDMI
If you have a laptop and a ps4 and think that there is no way that you can connect them, then let me tell you that there is a way to connect both of them and you can play as you did with a computer. Just follow the instructions:
First, remoteplay.dl.playstation.net go to this link and select Mac or windows and it will start to download 
Now click it and press yes and it will give you a pop-up and go to English, then click next, then accept and then choose your destination. Now click on next again. And then click install and finish the process
Now go to the remote player and download it and check for updates and go to the settings. Change information, shut it to the developers, open SSL, change resolution, and frame rate, and click sign in
You have to connect to your DualShock 4 wireless controller with the USB cable that came along. Plug it in, press start, it'll search for your ps4 and it will start working 
How To Connect Ps4 To Laptop Screen Without Remote Play 
To connect your ps4 to the laptop screen without remote play, you need to download the game capture application from the official website. Next, commune the capture card to the laptop. To finish this action, you will need to attach the ps4 to the HDMI out-port and the capture card to the HDMI in-port. Plug the USB-C type cable into the captures card with the USB-A port into the laptop. 
FAQ
How To Connect Ps4 To Laptop Hdmi Windows 10
The way we have explained here connecting ps4 to a laptop with windows 10 will allow you to play remotely and wirelessly pretty much anywhere you have a stable internet connection. 
To start things off, download and install the software on your laptop with windows 10. So open up the internet browser and navigate to the website remoteplay.dl.playstation.net and you'll get two download links for Mac and Windows. Also, check the system requirements as there may be some settings that you need to change for your system to play smoothly like the resolution. Make sure the PlayStation is updated to at least version 6.50 
Once you've done that click on the download link. Go to the folder that you saved in, open and the wizzard will pop up. Click on continue and then agree to the terms and conditions. This will take up sixteen megabytes of space on your computer. Now click install
Open the software, click on the preferences option, set up all the settings inside, and connect your ps4 with the laptop
From the PlayStation, home page open the settings option and go to the remote play connection settings and enable it. Go to the account management section and activate primary ps4
Go to the power save settings, click on set features, and click the stay connected to the internet option. Now connect the ps4 controller using the micro USB cable to your laptop
You might also like
Final Verdict
With all that now you must have got the idea of how you can connect your ps4 with a laptop or computer or your Macbook without struggling and also you can add the controller or play the game without it as well. If you have found this piece helpful be sure to let us for any further questions.